MD6603FNV
| | |
| --- | --- |
| Data Sheet | (PDF:9135.22KB) |
| Errata | |
Summary
MD6603 is a MCU (Micro Controller Unit) which includes an "EPU" core, in addition to the "8bit CPU + 16 bit Tiny DSP (x2) " which is incorporated in the conventional MD series. EPU is a 16 bit processor with zero latency task switching. A close interaction with rich analog functions inluding Tiny DSP and high resolution PWM enables real time processing of complex events with only a small delay. It also includes rich analog components and strong system support functions , which can assist you in creating a more efficient and high performing power control application.
Application
・DC/DC power supply
・AC/DC power supply
・LED lighting control
・LED signage
・Motor control
・Chargers ...and so forth
Feature
・Includes CPU, Tiny DSP and EPU processor core, enabling real time processing of complex events.
*EPU (Event Proceccing Unit): A Multi Context Processor for arithmetic operations and conditional judgments with zero latency task switching triggered by internal event signals
・Rich Analog Components
12bit A/D converter (2 units) which converts at fast speed (4MSPS), Comparator with reference voltage, and general-purpose OPAMPS are included.
・High Performance DSP Operations
PWM Duty and Cycle can be specified with 1.04ns resolution.
Auto dead time, Duty Cut, Cycle Cut are fully supported.
・Peripherals
Data transfers between peripherals can be triggered by internal events. It can make Automatic Feedback Control System by communicating among A/D converter, TinyDSP and PWM without CPU interposition. Meanwhile CPU can concentrate on system processings including communication processing and data logging.
・System support function
FLASH Memory, Timer Functionality, Serial Communications, Internal Oscillator, Power On Reset Circuit are also integrated.
Package
Package Name:QFN40

Design Support
Specifications
| | |
| --- | --- |
| CPU Core | 8051 |
| TinyDSP | 16-bit DSP x 2 units |
| EPU | 16-bit multi-task processor x 6 threads |
| Operating Frequency (Max) | 60MHz |
| FLASH Memory | 32KB |
| RAM | 1.75KB |
| PWM | 2-phase x 4 channels (Minimum Resolution 1.04 ns) |
| DMA Function (DSAC) | 16CH |
| 10 Bit A/D Converter | |
| 12 Bit A/D Converter | 12-bit Resolution x 2 units / 12 channels / 250 ns |
| D/A Converter | 8-bit Resolution x 6 units |
| Comparator | 6unit |
| OPAMP | 2unit |
| I2C | 1CH |
| UART | 1unit |
| SPI | 1unit |
| Timer Function | 16-bit Timer x 4 channels |
| GPIO Digital | 14 |
| GPIO Analog | 14 |
| Operating Temperature | -40℃ to 110℃ |
| Power Supply Voltage DVCC | 3.3V |
| Others | LVD, POR, VREF, TEMP |
Internal Block Diagram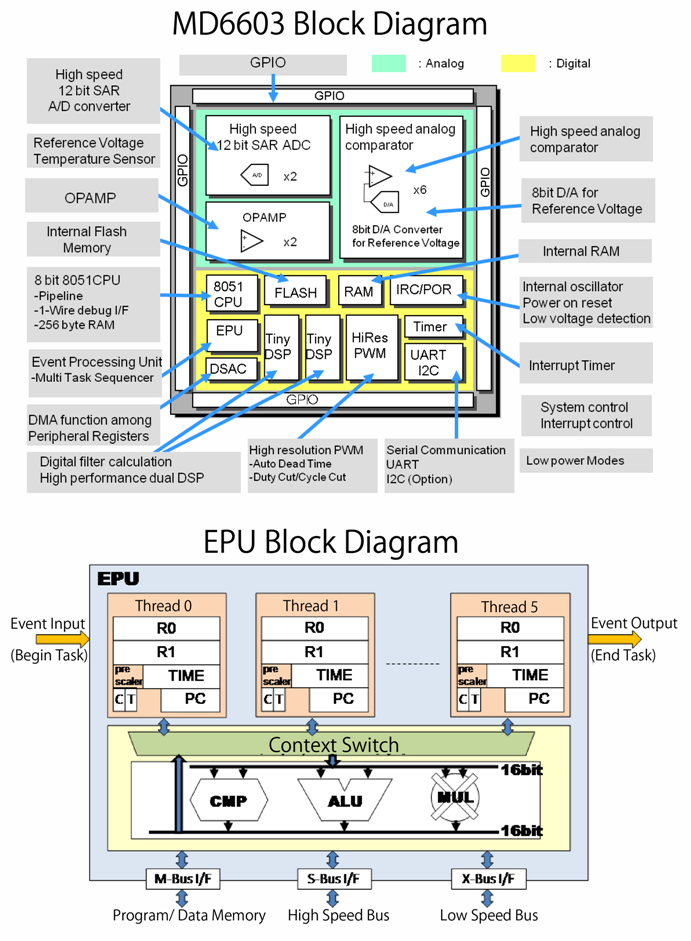 | | |
| --- | --- |
| Data Sheet | (PDF:9135.22KB) |
| Errata | |