NR131A
| | |
| --- | --- |
| Data Sheet | (PDF:777.76KB) |
| Application Note | (PDF:1509.67KB) |
Description
NR131A is a switching regulator IC with built-in power MOSFET.
Supports ultra low ESR capacitor including ceramic capacitors, using current mode control.
Realizes high efficiency with pulse skip operation at light load.
The product reducies component count with built-in phase compensation.
Includes OCP, UVLO, TSD protection functions.
Soft start time can be adjusted by selecting the value of external capacitor. EN function allows ON/OFF with an external signal.
eSOIC8 package with heat slug on package backside.
Application
・ VIN=12V type for power supply bus unit
・Power supply for standby applications
 (TV, Audio, Motor Driver), USB-Power
Features
・Current mode type PWM (normal load)
・Pulse skip operation (light load)
 Switch mode for pulse skip load current
・Up to 95% efficiency
・Up to 85% Efficiency at light load
 (@Vin=12V,Vo=5V,Io=10mA)
・Low ESR capacitor can be used for output
・Built-in phase compensation circuit
・Time adjustable soft start function
・External ON/OFF function
・Built-in protection functions
 -Overcurrent protection (OCP):
  Drooping-type, auto restart
 -Thermal shutdown (TSD): Auto restart
 -Undervoltage lock out circuit (UVLO)
・eSOIC8 package with thermally enhanced heat slug
Package
Package Name:eSOIC8
Specifications
| | |
| --- | --- |
| Built-in Power | YES |
| Output Voltage | 0.8V to 14V |
| Output Current | 3.0A |
| Input Voltage Range | 4.5V to 17V |
| Operating Frequency | 350kHz |
| Synchronous/Asynchronous | Asynchronous |
| Current Mode Control | YES |
| Maximum Input Voltage | 19.0V |
| Minimum Input Voltage | 4.5V |
| Output on/off | YES |
| Low ESR Capacitor Support | YES |
| Overcurrent Protection | Drooping Type |
| Phase Compensation | Built-in |
| Thermal Protection | YES |
| UVLO | YES |
Representative Circuit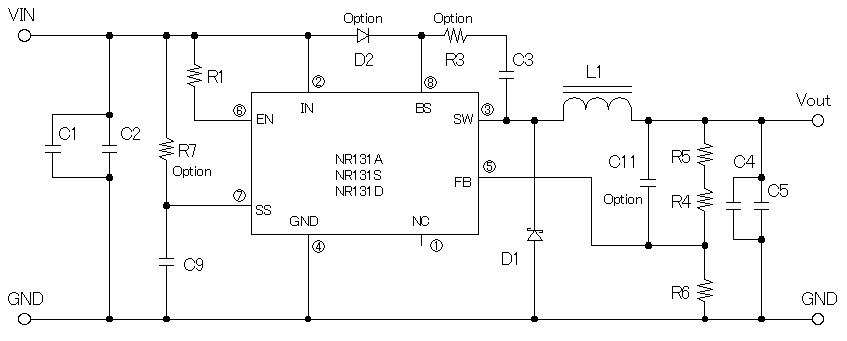 Internal Block Diagram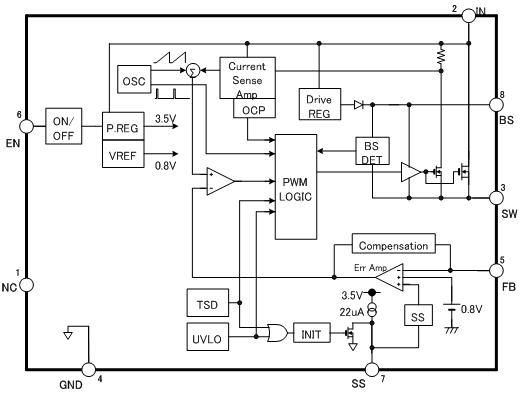 Pin-Out Diagrams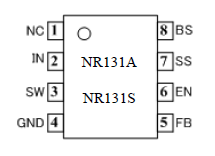 | | |
| --- | --- |
| Data Sheet | (PDF:777.76KB) |
| Application Note | (PDF:1509.67KB) |