SI-8008HD
| | |
| --- | --- |
| Data Sheet | (PDF:50.44KB) |
| Application Note | (PDF:1067.87KB) |
Description
SI-8000HD series attains an oscillation frequency of 150kHz, and has an integrated miniaturized choke coil, allowing it to serve as a high efficiency power supply in a compact TO-263 package.
SI-8000HD series regulators provides various features and protection functions (overcurrent and thermal protection) which are necessary for switching regulators.
Only 7 external components are required, and provides high efficiency switching regulation without any need for adjustment.
The device supplies 5.5A output current in a TO-263-5 package.
Application
・DVD recorders, FPD TV
・OA equipment (printers, etc)
・On-board local power supplies
Features
・High efficiency: 83% (VIN=15V, Io=3A)
・Requires only 7 discrete components (C3 required for soft start)
・Built-in reference oscillator (Oscillating frequency:150kHz(TYP)
・Built-in drooping-type-overcurrent and thermal protection circuits
・Built-in soft start function (Output ON/OFF available. Output OFF at low)
・Low current consumption during off
Package
Package Name:TO263-5

Specifications
| | |
| --- | --- |
| Built-in Power | YES |
| Output Voltage | 0.8V to 24V |
| Output Current | 5.5A |
| Input Voltage Range | 4.5V to 40V |
| Operating Frequency | 150kHz |
| Synchronous/Asynchronous | Asynchronous |
| Current Mode Control | NO |
| Maximum Input Voltage | 40V |
| Minimum Input Voltage | 4.5V |
| Output on/off | YES |
| Low ESR Capacitor Support | NO |
| Overcurrent Protection | Drooping Type |
| Phase Compensation | Built-in |
| Thermal Protection | YES |
| UVLO | NO |
Representative Circuit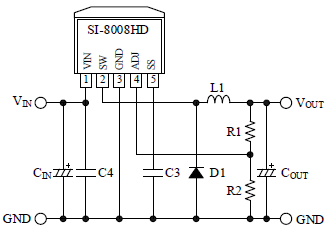 Internal Block Diagram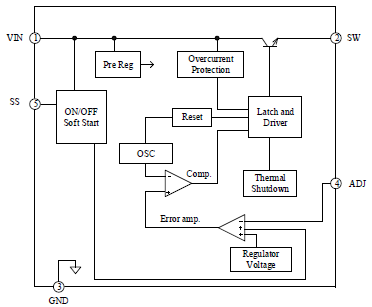 | | |
| --- | --- |
| Data Sheet | (PDF:50.44KB) |
| Application Note | (PDF:1067.87KB) |