SLA7073MS
| | |
| --- | --- |
| Data Sheet | (PDF:4879.10KB) |
| Application Note | |
Description
2-phase stepper motor unipolar IC, self excitation PWM current control with fixed off time.
The built-in current sense resistor allows reduction in external components.
The series also has a built-in protection function which operate during abnormal operation (motor coil opens/shorts ) and thermal shutdown protection as well.
Lineup with various rated currents and sequencers are also available.
Application
・Copying machines ・Printers ・Manufacturing equipment
Features
・Power supply voltages VBB:
46V(max), normal operating range: 10V to 44V ・Logic supply voltages VDD: 3.0V to 5.5V ・Maximum output current Io: 3A ・Supports clock-input-method micro-step drive
(built-in sequencer) ・Built-in current sense resistor ・PWM current control with fixed OFF time ・Synchronous PWM chopping function prevents motor
noise in Hold mode ・Sleep mode for reducing the IC input current in stand-by
state ・Built-in protection circuitry against motor coil opens/shorts
and thermal shutdown protection
Package
Package Name:ZIP23(SLA-23)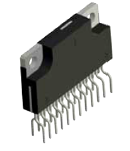 Specifications
| | |
| --- | --- |
| Excitation Method | 2 phase/1-2 phase |
| Supply Voltage | 10V to 44V |
| Output Current | 3.0A |
| on-Resistance | 0.18Ω |
| Input Method | Clock in |
| OCP | YES |
| TSD | YES |
| STP (Simultaneous on Protection Feature) | YES |
| Open Coil Protection | YES |
Representative Circuit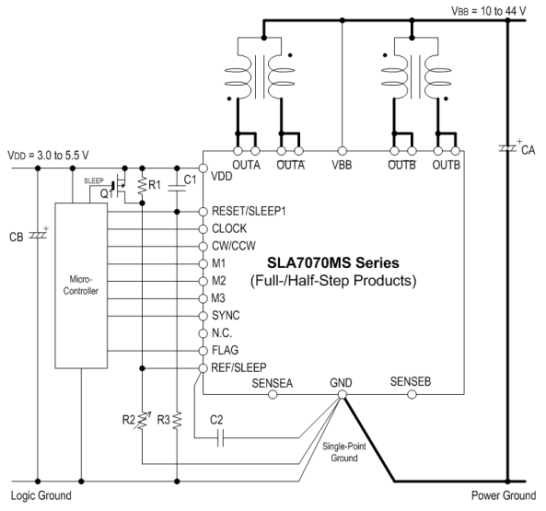 Internal Block Diagram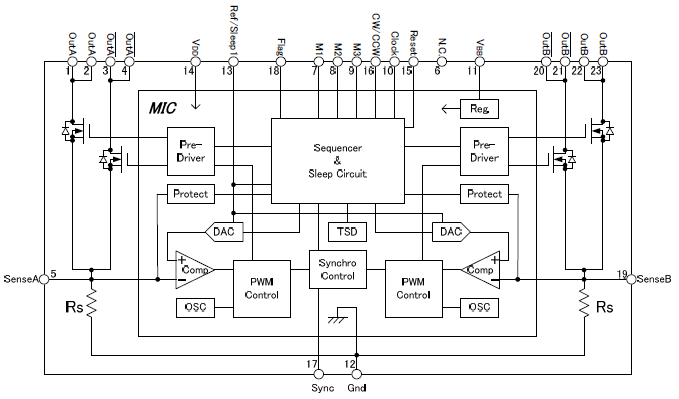 Pin-Out Diagrams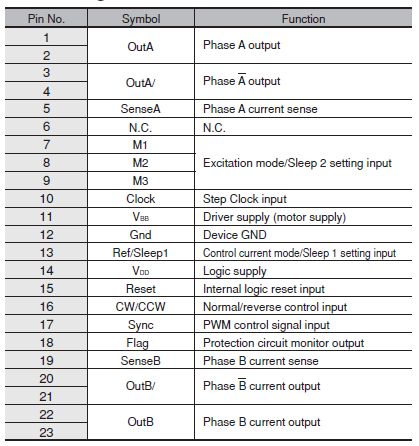 | | |
| --- | --- |
| Data Sheet | (PDF:4879.10KB) |
| Application Note | |