ACTIVE
SI-6633C
Package:QFN36
SI-6633C is a 3-phase brushless DC motor pre-driver.
This device can be used together with wide variety of Nchannel MOSFETS, supporting motor power voltages up to 30V.
Phase is switched by hall elements arranged at an interval of 120°.
Built-in functions include PWM current control for limiting inrush current, thermal shutdown, and synchronous rectification.
The synchronous rectification fnction rectifies by MOSFET of low temperature resistance in place of a body diode, thus reducing power loss at the time of regeneration.
This product offers enable, direction, brake inputs that can control electric current by internal PWM.
Also, rotation of the motor can be detected by logc output FG.
Design Support
Related Documents
■Application Note
■Other
Features
lDrives 6-element N-channel MOSFET
lSupports Hall input
ØOvervoltage protection
ØLow voltage protection
ØOvercurrent protection
ØThermal protection
ØMotor lock detection
ØThrough current protection function
lProvides alarm output pin for protection function operation
lBuilt-in synchronous rectifier function to reduce power loss
lPWM current limit
lFG output
lStandby mode

Application
Printers, industrial equipment
Specifications
| | |
| --- | --- |
| Type | |
| Maximum Supply Voltage | 38.00 V |
| Output Current | A |
| On-Resistance | Ω |
| Output Method | 120° |
| Input Method | |
| OVP | YES |
| OCP | YES |
| UVLO | YES |
| TSD | YES |
| STP (Simultaneous ON Protection Feature) | YES |
| Lock Detection | YES |
Pin Configuration Definitions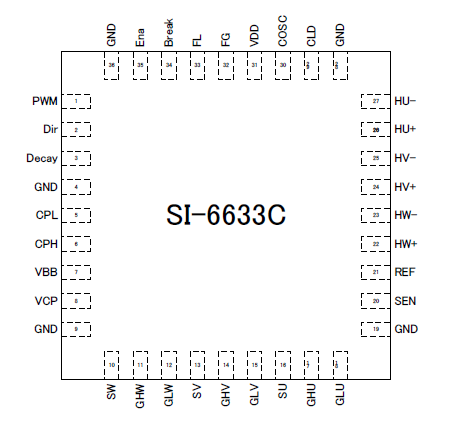 Questions or Comments?
Please feel free to contact us if you cannot find the desired product from the lineup.