ACTIVE
STR5A162D

Package:DIP8
The STR5A100D series is power IC with primary side regulation for switching power supplies, incorporating a sense MOSFET and a current mode PWM controller IC.
Employing the Primary Side Regulation, the product achieves power supply systems with few external components. Including a startup circuit and a standby function in the controller, the product achieves the low standby power by the automatic switching between the PWM operation in normal operation and the burst-oscillation under light load conditions. The rich set of protection features helps to realize low component counts, and high performance-to-cost power supply.
Features
・Primary Side Regulation
・Constant Voltage(CV), Constant Current(CC) Control
・Auto Standby Function
・No Load Power Consumption < 30mW
・Operation Mode
 Normal Operation: PWM Mode
 Light Load Operation: Green-Mode
 Standby: Burst Oscillation Mode
・Build-in Startup Circuit
・Current Mode Type PWM Control
・Random Switching Function
・Leading Edge Blanking Function
・Soft Start Function
・Protections
 Overcurrent Protection(OCP): pulse-by-pulse
 Overvoltage Protection(OVP): auto-restart
 Thermal Shutdown Protection(TSD): auto-restart
Specifications
| | |
| --- | --- |
| Control Method | PWM |
| Type | Power IC |
| Output Current | 4.5 W |
| RDS(ON) (max.) | 24.6 Ω |
| VDSS (min.) | 730.00 V |
| VCC (max.) | 32.00 V |
| Oscillating Frequency(typ.) | 65 |
| OCP | YES |
| OLP | |
| OVP | Auto Restart |
| Brown-in / out | NO |
| TSD | Latch |
| Power Consumption at No Load | <30mW |
Typical Application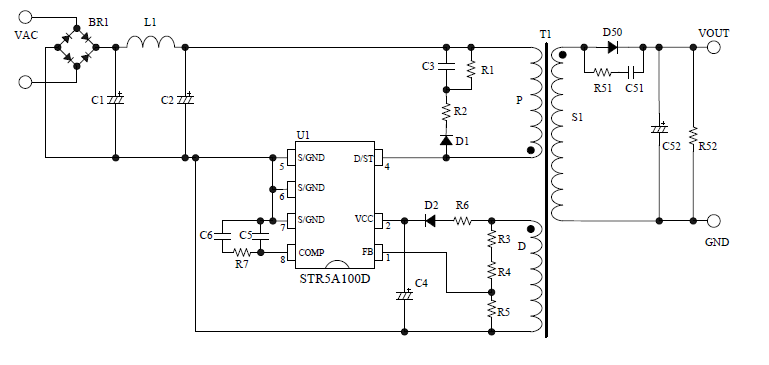 Block Diagram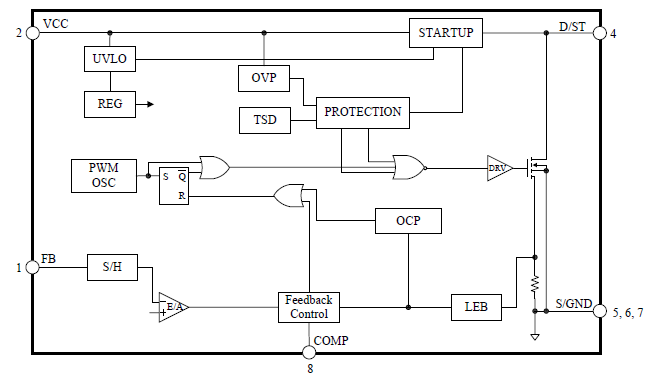 Pin Configuration Definitions

Questions or Comments?
Please feel free to contact us if you cannot find the desired product from the lineup.