ACTIVE
SSC2005SC
Package:SOIC8
SSC2005SC is a Critical Conduction Mode (CRM) control IC for power factor correction (PFC).
Since no input voltage sensing and no auxiliary winding for inductor current detection are required, the IC allows the realization of low standby power and the low number of external components. The product achieves high cost-performance and high efficiency PFC converter system.
Features
・Inductor Current Detection
 (No auxiliary winding required)
・Low Standby Power
 (No input voltage sensing required)
・Minimum Off-time Limitation Function to restrict the Rise of Operation Frequency
・High Accuracy Overcurrent detection: −0.60 V ± 5 %
・Protection Functions
 Overcurrent Protection (OCP): pulse-by-pulse
 Overvoltage Protection (OVP): auto restart
 FB Pin Undervoltage Protection (FB_UVP): auto restart
 Thermal Shutdown Protection with hysteresis (TSD): auto restart

Application
PFC Circuit up to 200 W of Output Power such as:
・AC/DC Power Supply
・Digital appliances for large size LCD/PDP television and so forth
・OA equipment for Computer, Server, Monitor, and so forth
・Communication facilities

Specifications
| | |
| --- | --- |
| Control Method | |
| Max. ON-time / Max. ON Duty | With External components |
| OCP | YES |
| OVP | YES |
| TSD | YES |
Block Diagram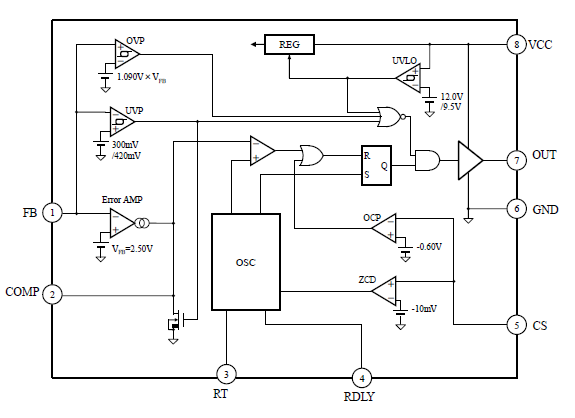 Pin Configuration Definitions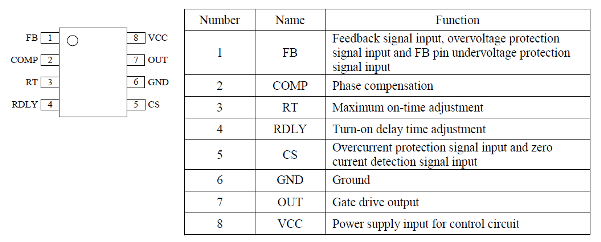 Questions or Comments?
Please feel free to contact us if you cannot find the desired product from the lineup.