NR111D
| | |
| --- | --- |
| Data Sheet | (PDF:872.00KB) |
| Application Note | (PDF:1235.40KB) |
Description
NR110D series is buck regulator ICs integrates High-side power MOSFETs.
The feature increasing efficiency at light loads allows the device to be used in the energy-saving applications.
With the current mode control, ultra low ESR capacitors such as ceramic capacitors can be used.
The ICs have protection functions such as Over-Current Protection (OCP), Under-Voltage Lockout (UVLO) and Thermal Shutdown (TSD).
An adjustable Soft-Start by an external capacitor prevents the excessive inrush current at turn-on. The ICs integrate phase compensation circuit which reduces the number of external components and simplifies the design of customer application.
The ON/OFF pin (EN Pin) turns the regulator on or off and helps to achieve low power consumption requirements.
The NR110E series is available in an 8-pin DIP package.
Application
・Power supply for LCDTV, PDP ・Power supply for DVD, BD, STB ・On-board local power supplies ・Switching power supply
Features
・Up to 90% efficiency
・Up to 68% efficiency at light load
 (VIN=12V, Vo=5V, IO=20mA) ・Current mode PWM control ・Adjustable Overcurrent protection (OCP) ・Stable with low ESR ceramic output capacitors ・Built-in protection function  -Overcurrent protection (OCP)
  Drooping type auto restart  -Thermal shutdown (TSD) auto restart  -Undervoltage (UVLO) circuit ・Built-in phase compensation,
 with no external components required ・Adjustable Soft-Start with an external capacitor ・ON/OFF function
Package
Package Name:DIP8

Specifications
| | |
| --- | --- |
| Built-in Power | YES |
| Output Voltage | 0.8V to 24V |
| Output Current | 4A |
| Input Voltage Range | 6.5V to 31V |
| Operating Frequency | 350kHZ |
| Synchronous/Asynchronous | Asynchronous |
| Current Mode Control | YES |
| Maximum Input Voltage | 35V |
| Minimum Input Voltage | 6.5V |
| Output on/off | YES |
| Low ESR Capacitor Support | YES |
| Overcurrent Protection | Drooping Type |
| Phase Compensation | Built-in |
| Thermal Protection | YES |
| UVLO | YES |
Representative Circuit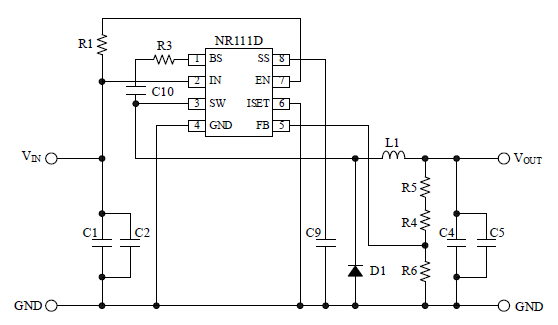 Internal Block Diagram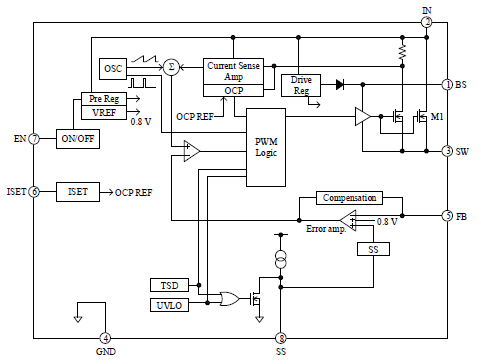 Pin-Out Diagrams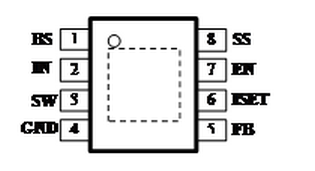 | | |
| --- | --- |
| Data Sheet | (PDF:872.00KB) |
| Application Note | (PDF:1235.40KB) |