Product Category: LED > Visible Light>ChipLED

2 new series of packages were added to the small chip LED series (16 × 08 type).

・Dome lens SEC ××× 13C series
 ・・ Our 16×08-type dome shaped lens was adopted with the aim to increase
brightness.
・1608-type high profile type SEC ××× 11C series(H=1.06mm)
 ・・ the high-profile type H = 1.06 mm has been added to the current series
(H = 0.55 mm and 0.7 mm line). You can select the LED that matches the exposure
surface of the set. Light leakage has also been reduced.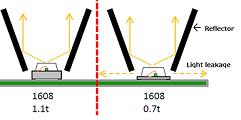 Product Category: LED > Visible Light>Flat LED

We have added 13 varieties of different lightness and color to the current flat LED package.

Features:
RoHS compliant, compatible with heat resistance of lead-free soldering.
Ideal for application to automobiles, household appliances, office automation, and indicators.