NR885E
| | |
| --- | --- |
| Data Sheet | (PDF:752.64KB) |
| Application Note | (PDF:1066.32KB) |
Description
NR880E series is synchronous rectifier type buck regulator ICs with integrated High-side power MOSFETs.
With the current mode control, ultra low ESR capacitors such as ceramic capacitors can be used.
The ICs have protection functions such as Over-Current Protection (OCP), Under-Voltage Lockout (UVLO) and Thermal Shutdown (TSD).
An adjustable Soft-Start by an external capacitor prevents the excessive inrush current at turn-on.
The ON/OFF pin (EN Pin) turns the regulator on or off and helps to achieve low power consumption requirements.
The ICs integrate phase compensation circuit which reduces the number of external components and simplifies the design of customer application.
Available in an 8-pin SOIC package with an exposed thermal pad on the back side.
Application
 LCD TV / Blu-Ray / Set top box
 Green Electronic products
 Stand-by power supply for digital appliances
Features
・Current mode type PWM (normal load)
・Pulse skip operation (light load)
Switch mode for pulse skip load current
・Maximum efficiency at normal operation 95%
・Efficiency at light load 85%
(@Vin=12V,Vo=5V,Io=10mA) ・Low ESR capacitor can be used for output
・Time adjustable soft start function
・External ON/OFF function
・ External phase compensation terminal (COMP)
・Built-in protection functions
Overcurrent protection (OCP): Drooping-type, auto restart
Thermal shutdown (TSD): Auto restart
Undervoltage lock out circuit (UVLO)
・DIP8 package suitable for single sided PCB
Package
Package Name:eSOIC8
Specifications
| | |
| --- | --- |
| Built-in Power | YES |
| Output Voltage | 0.8V to 14V |
| Output Current | 3A |
| Input Voltage Range | 4.5V to 18V |
| Operating Frequency | 350kHz |
| Synchronous/Asynchronous | Synchronous |
| Current Mode Control | YES |
| Maximum Input Voltage | 18V |
| Minimum Input Voltage | 4.5V |
| Output on/off | YES |
| Low ESR Capacitor Support | YES |
| Overcurrent Protection | Drooping Type |
| Phase Compensation | Built-in |
| Thermal Protection | YES |
| UVLO | YES |
Representative Circuit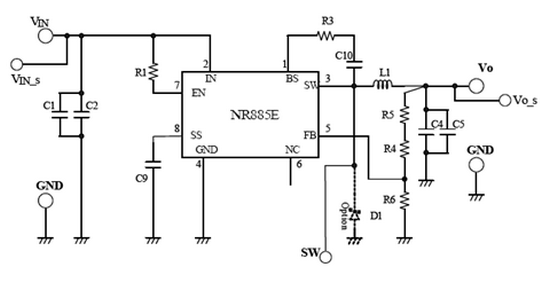 Internal Block Diagram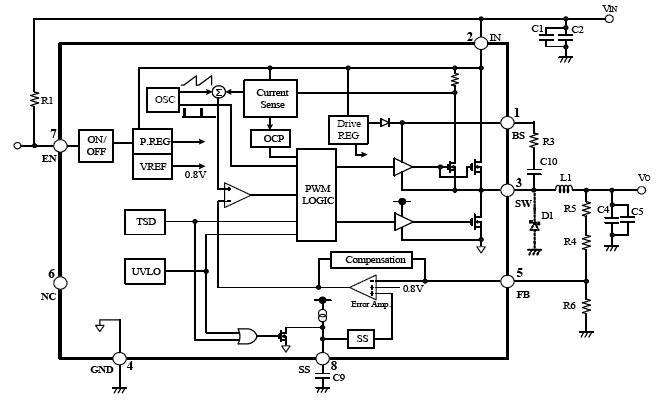 Pin-Out Diagrams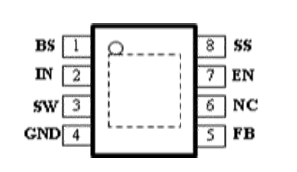 | | |
| --- | --- |
| Data Sheet | (PDF:752.64KB) |
| Application Note | (PDF:1066.32KB) |