SI-8010GL
| | |
| --- | --- |
| Data Sheet | (PDF:47.30KB) |
| Application Note | (PDF:567.89KB) |
Description
SI-8010GL series chopper type switching regulators provides various features and protection functions (overcurrent and thermal protection) which are necessary for step-down switching regulators.
A high speed, high precision and high efficiency switching regulator of 250 KHz operating frequency can be composed.
The package unifying the GND pin of IC and the inner frame is used to reduce thermal resistance significantly.
Application
・On-board local power supply
・OA equipment
・For stabilization of the secondary-side output voltage of switching power supply
Features
・DIP8 Pin package
・Output current: 1.5A
・High efficiency: 86%(at VIN=20V、Io=1A、Vo=5V)
・Capable of downsizing the choke-coil due to the IC's high switching frequency (250kHz).(Compared with conventional Sanken devices)
・The output-voltage-variable type can vary its output voltage from 1V to 14V because of its low reference voltage of(Vref) of 1V.
・Wide input voltage: 8~50V
・Output ON/OFF available
・Built-in overcurrent protection and thermal protection circuits.
Package
Package Name:DIP8

Specifications
| | |
| --- | --- |
| Built-in Power | YES |
| Output Voltage | 1V to 14V |
| Output Current | 1.5A |
| Input Voltage Range | 8V to 50V |
| Operating Frequency | 250kHz |
| Synchronous/Asynchronous | Asynchronous |
| Current Mode Control | NO |
| Maximum Input Voltage | 50V |
| Minimum Input Voltage | 8V |
| Output on/off | YES |
| Low ESR Capacitor Support | NO |
| Overcurrent Protection | Foldback Type |
| Phase Compensation | External |
| Thermal Protection | YES |
| UVLO | YES |
Representative Circuit

Internal Block Diagram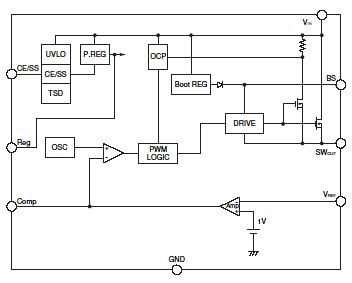 | | |
| --- | --- |
| Data Sheet | (PDF:47.30KB) |
| Application Note | (PDF:567.89KB) |