SI-8033JD
| | |
| --- | --- |
| Data Sheet | (PDF:53.47KB) |
| Application Note | (PDF:1075.65KB) |
Description
SI-8000JD series is a chopper type switching regulator IC, incorporating various features and protection functions needed for a step-down switching regulator.
Switching regulator with high precision and high efficiency can be constructed with only 4 discrete components.
Application
・On-board local power supply ・Power supply for OA equipment
・For stabilization of the secondary-side output voltage of regulators ・Power supply for telecommunication
Features
・Compact size and large output current of 1.5A
  TO-263-5 surface mount package, with maximum output current of 1.5A.
・High efficiency: 82%(SI-8050JD Vin=20V/Io=0.5A)
  Heat dissipation is small due to high efficiency to allow for the downsizing of a heat sink.
・Requires only 4 discrete components
  The regulator can be composed of input / output capacitor, diode and coil.
・Internally-adjusted phase correction and output voltage
  Troublesome adjustment of output voltage and phase compensation by means of external components is no longer required.
・Reference oscillation by a built-in timing capacitor
  No external capacitor for setting the oscillation frequency is required.
・Built-in functions for overcurrent and thermal shutdown
  Built-in foldback-overcurrent and thermal protection circuits (automatic recovery type)
・Output ON/OFF function(rise time delay setting can be made.)
  Output ON/OFF available, with low power consumption during OFF
  It is possible to delay the rising speed of output voltage at start-up by adding external capacitors.
Package
Package Name:TO263-5

Specifications
| | |
| --- | --- |
| Built-in Power | YES |
| Output Voltage | 3.3V |
| Output Current | 1.5A |
| Input Voltage Range | 5.3V to 40V |
| Operating Frequency | 125kHz |
| Synchronous/Asynchronous | Asynchronous |
| Current Mode Control | NO |
| Maximum Input Voltage | 40V |
| Minimum Input Voltage | 5.3V |
| Output on/off | YES |
| Low ESR Capacitor Support | NO |
| Overcurrent Protection | Foldback Type |
| Phase Compensation | Built-in |
| Thermal Protection | YES |
| UVLO | NO |
Representative Circuit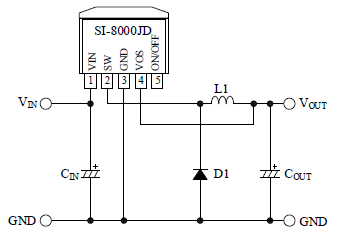 Internal Block Diagram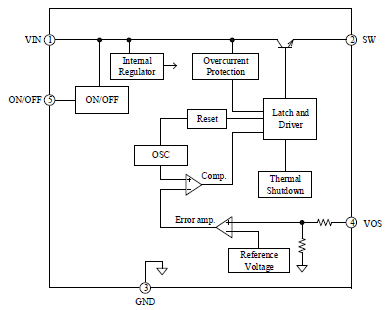 | | |
| --- | --- |
| Data Sheet | (PDF:53.47KB) |
| Application Note | (PDF:1075.65KB) |