SI-8205NHD
| | |
| --- | --- |
| Data Sheet | |
| Application Note | (PDF:837.76KB) |
Description
The SI-8205NHD is a synchronized rectifier type chopper regulator IC with a built-in power MOS.
Due toa current control system, it is applicable to such a super low ESR capacitor as a ceramic capacitor.
It is provided with various protection functions such as overcurrent protection, low input prohibition, overheat protection etc.
In order to protect the IC against in-rush current at start-up, the soft start function is provided.
The soft start time can be set by connecting external capacitors.
And the frequency can be set by connecting an external capacitor.
This device is supplied in a compact and thin HOSP 8-pin package with heat slug on the back side.
Application
・DVD recorders, FPD TV
・OA equipment (printers, etc)
・On-board local power supplies
Features
・High efficiency: 90%(VIN=12V, Vo=5V, IO=1A, fo=500kHz)
・150mΩMOSFET(High/Low side)
・Ceramic capacitor can be used for output
・Externally adjusted frequency type: 200kHz~1MHz
・Output voltage range: 0.5~24V
・Built-in drooping type overcurrent and thermal protection circuits
Package
Package Name:HSOP8

Specifications
| | |
| --- | --- |
| Built-in Power | YES |
| Output Voltage | 0.5V to 24V |
| Output Current | 3A |
| Input Voltage Range | 8V to 43V |
| Operating Frequency | 200kHz to 1000kHz |
| Synchronous/Asynchronous | Synchronous |
| Current Mode Control | YES |
| Maximum Input Voltage | 43V |
| Minimum Input Voltage | 8V |
| Output on/off | YES |
| Low ESR Capacitor Support | YES |
| Overcurrent Protection | Drooping Type |
| Phase Compensation | External |
| Thermal Protection | YES |
| UVLO | YES |
Representative Circuit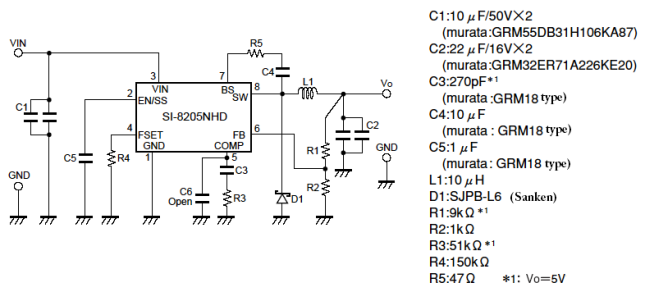 Internal Block Diagram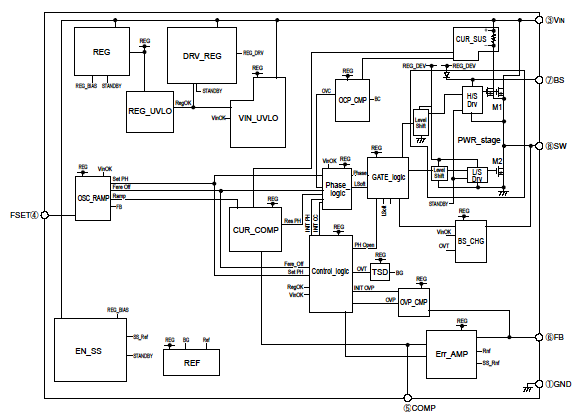 | | |
| --- | --- |
| Data Sheet | |
| Application Note | (PDF:837.76KB) |