SMA6853M
| | |
| --- | --- |
| Data Sheet | |
| Application Note | |
Description
SMA6853M incorporates 500V2.5A IGBT, MOSFET for the 3-phase full bridge, UVLO (undervoltage lock out) TD (t and thermal detection) protection functions, pre-drive Ics with 7.5V regulator output function, and bootstrap diodes with limiting resistors into 1 package. Also supports 3 shunt method enabling current detection in each phase. Full mold package.
Application
For driving fan motors, air purifier fan motors, and dryer fan motors
Features
Built-in boot diode with 60Ω limiting resistor, CMOS compatible input (3.3V to 5.0V), built-in undervoltage lock out circuit (UVLO), built-in thermal detection circuit (non-stopping, Fo output), built-in regulator output function (7.5V/35mA), overcurrent detection enabled by 3 shunt resistors, SIP package.
Package
Package Name:ZIP24(SMA-24)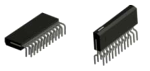 Specifications
Output Breakdown Voltage
500V
Output Current
2.5A
RDS(on) Max./
VCE(Sat) Typ.
2.4Ω
Output Element
MOSFET
Input Threshold
3.3V/5V
| | |
| --- | --- |
| Data Sheet | |
| Application Note | |