SSC3S901
| | |
| --- | --- |
| Data Sheet | (PDF:1044.45KB) |
| Application Note | |
Description
The SSC3S900 series are SMZ-driven controller ICs designed for LLC current-resonant switching power supplies, incorporating a floating drive circuit that drives a high-side power MOSFET.
And their functions include: Standby Mode Switching Function, Overload Protection with input voltage compensation, Automatic Dead Time Adjustment, and Capacitive Mode Detection.
These functionally-rich products enable power supply systems to be high efficient and low noise with only a few external components, resulting in downsizing and high cost-effectiveness.
Application
Switching power supplies for electronic devices such as:
・Digital appliances
・Office automation (OA) equipment
・Industrial apparatus
・Communication facilities

Features
・Standby Mode Change function: changes to standby mode
by external signal
 -Output Power at Light Load: 100 mW (Pin = 0.27 W)
 -Burst mode in standby operation
 -Reduces audible noise by Soft-On/Soft-Off function
・Supports universal AC input power supplies
・Floating Drive Circuit
・Soft-Start function
・Capacitive Mode Detection Function
・Reset Detection Function
・Automatic Dead Time Adjustment Function
・Brown-In and Brown-Out Function
・Built-in Startup Circuit
・Input Capacitor Discharge Function
・Protection Functions
 - High-side Driver UVLO
 - Overcurrent Protection (OCP): 2-step detection
 - Limited Output Power Protection (LPP)
 - Overload Protection (OLP)
 - Overvoltage Protection (OVP)
 - Thermal Shutdown (TSD)
Package
Package Name:SOP18

Specifications
| | |
| --- | --- |
| Control Method | Current Resonant |
| Series | SSC3S900 |
| ST Terminal Breakdown Voltage | 600V |
| VCC Breakdown Voltage | 35V |
| Oscillating Frequency | 32 kHz to 300 kHz |
Representative Circuit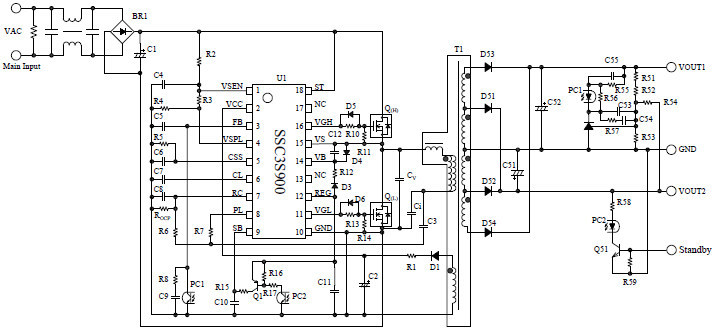 Internal Block Diagram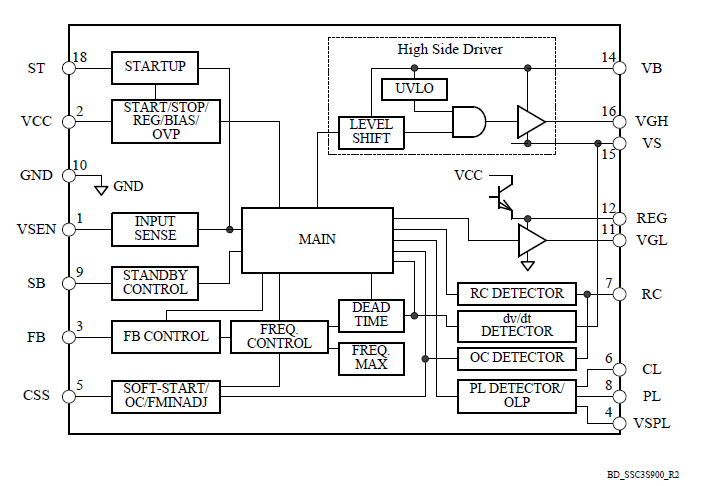 Pin-Out Diagrams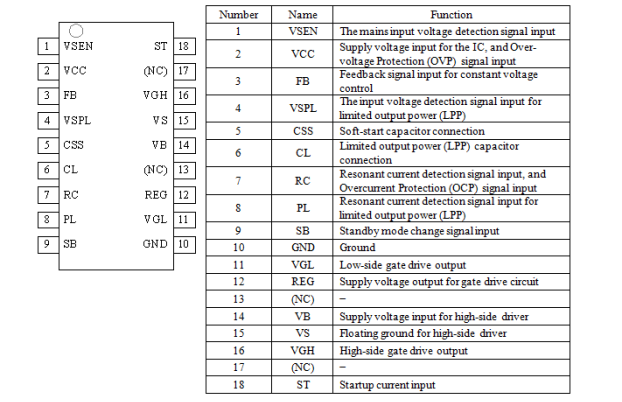 | | |
| --- | --- |
| Data Sheet | (PDF:1044.45KB) |
| Application Note | |