STR-A6132
| | |
| --- | --- |
| Data Sheet | (PDF:846.58KB) |
| Application Note | |
Description
The STR-A6100 series are power ICs for switching power supplies, incorporating a MOSFET and a current mode PRC controller IC.
PRC (Pulse Ratio Control) controls on-time with fixed off-time.
The IC includes a startup circuit and a standby function to achieve the low standby power. The rich set of protection features helps to realize low component counts, and high performance-to-cost power supply.
Application
・White goods
・Auxiliary SMPS
・Low power SMPS, etc.
Features
・Current Mode Type Pulse Ratio Control
・Auto Standby Function
 Normal Operation:PRC Mode
 Standby:Burst Oscillation Mode
・No Load Power Consumption < 40mW
・Leading Edge Blanking Function
・Auto Bias Function
・Protections
 Overcurrent Protection(OCP): pulse-by-pulse
 Overload Protection(OLP): auto-restart
 Overvoltage Protection(OVP): latched shutdown
 Thermal Shutdown Protection(TSD): latched shutdown
Remarks
STR-A6100 Series Lineup
Products
Fixed
off time
Notes
STR-A61xx
8μs
Auto Bias Function
STR-A61xxM
11.5μs
-
STR-A61xxE
11.5μs
Built-in Startup Circuit
V
DSS
 STR-A613x:500V
 STR-A615x:650V
 STR-A616x:800V
Package
Package Name:DIP8

Specifications
| | |
| --- | --- |
| Control Method | PRC(Fixed off time) |
| Series | STR-A6100 |
| Output Power | 18W (120V) |
| RON(Max.) | 2.62Ω |
| VDSS(Min.) | 500V |
| VCC Breakdown Voltage(Max.) | 35V |
| Oscillating Frequency(Typ.) | Fixed off-time period (8μs) |
Representative Circuit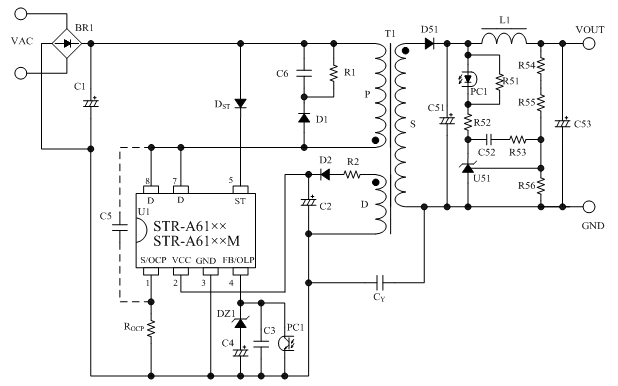 Internal Block Diagram
Pin-Out Diagrams

| | |
| --- | --- |
| Data Sheet | (PDF:846.58KB) |
| Application Note | |