SI-8005Q
| | |
| --- | --- |
| Data Sheet | (PDF:994.94KB) |
| Application Note | (PDF:1351.81KB) |
Description
The SI-8005Q is a buck switching regulator IC with a built-in power MOS.
Due to a current control system, it is applicable to such a super low ESR capacitor as a ceramic capacitor.
It is provided with various protection functions such as overcurrent protection, low input prohibition, overheat protection etc.
In order to protect the IC against in-rush current at start-up, the soft start function is provided.
The soft start time can be set by connecting external capacitors.
A function to turn on/off external signals is also provided and by sending external signal to the EN terminal, the SI-8105Q can be turned on/off.
This device is supplied in the small and thin type HSOP 8-pin package including a heat slug on the backside.
The SI-8105QL is mounted in the DIP 8-pin package for flow mounting /power supply board (single side surface board).
Application
・DVD recorders, FPD-TV
・On-board local power supplies
・OA equipment
Features
・Compact surface-mount(HSOP8) package
・Current mode control
・Output current: 3.5A
・High efficiency: 90% (at TYP, Vo=5V)
・Built-in reference oscillator (500kHz)
・Ceramic capacitors can be used during output
・Built-in drooping-type-overcurrent and thermal protection circuits
・Built-in soft start circuit
・Built-in ON/OFF function (Active Hi))
・Low current consumption during off
Package
Package Name:HSOP8

Specifications
| | |
| --- | --- |
| Built-in Power | YES |
| Output Voltage | 0.5V to 24V |
| Output Current | 3.5A |
| Input Voltage Range | 4.75V to 28V |
| Operating Frequency | 500kHz |
| Synchronous/Asynchronous | Asynchronous |
| Current Mode Control | YES |
| Maximum Input Voltage | 28V |
| Minimum Input Voltage | 4.75V |
| Output on/off | YES |
| Low ESR Capacitor Support | YES |
| Overcurrent Protection | Drooping Type |
| Phase Compensation | External |
| Thermal Protection | YES |
| UVLO | YES |
Representative Circuit

Internal Block Diagram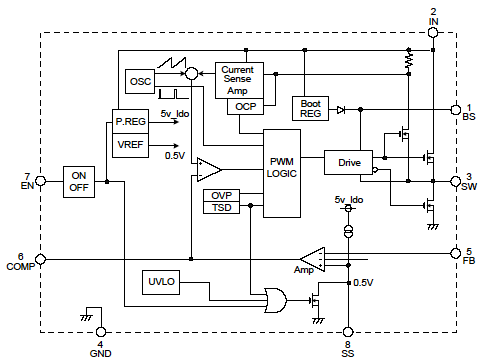 | | |
| --- | --- |
| Data Sheet | (PDF:994.94KB) |
| Application Note | (PDF:1351.81KB) |