ACTIVE
SIM6880M

Package:DIP40
The SIM6800M/MV series are high voltage 3-phase motor drivers in which transistors, a pre-drive circuit, and bootstrap circuits (diodes and resistors) are highly integrated.
These products can run on a 3-shunt current detection system and optimally control the inverter systems of low- to medium-capacity motors that require universal input standards.
Design Support
Related Documents
■3D CAD Data
■Other
Calculation Tools
Features
●Built-in Bootstrap Diodes with Current Limiting Resistors (60 Ω)
●CMOS-compatible Input (3.3 V or 5 V)
●Bare Lead Frame: Pb-free (RoHS compliant)
●Isolation Voltage: 1500 V (for 1 min)
●Fault Signal Output at Protection Activation (FO Pin)
●High-side Shutdown Signal Input (SD Pin)
●Protections Include:
Overcurrent Limit (OCL): Auto-restart
Overcurrent Protection (OCP): Auto-restart
Undervoltage Lockout for Power Supply
High-side (UVLO_VB): Auto-restart
Low-side (UVLO_VCC): Auto-restart
 Thermal Shutdown (TSD): Auto-restart
Application
For motor drives such as:
●Refrigerator Compressor Motor
●Fan Motor and Pump Motor for Washer and Dryer
●Fan Motor for Air Conditioner, Air Purifier, and Electric Fan
Specifications
Type
Power IC
Breakdown Voltage
600 V
Output Current
3.0 A
RDS(ON) max./
VCE(SAT) typ.
1.85V
Output Element
IGBT
Input Threshold
3.3/5.0 V
UVLO
YES
Overcurrent (OCP or OCL)
OCP/OCL
Temperature Detection
Thermal Shutdown
Fault Signal Output
YES
3 Shunt Support
YES
Bootstrap Diode
Built-in
Simultaneous On-state Protection
NO
Reg Output
NO
Remarks
SIM6800M/MV Series
VDSS
IO
Part Number
Output Transistors
500 V
2.0 A
2.5 A
SIM6811M
SIM6812M
Power MOSFET
600 V
3.0 A
5.0 A
5.0 A
SIM6880M
SIM6822MV
SIM6827MV
IGBT
(with FRD)
Typical Application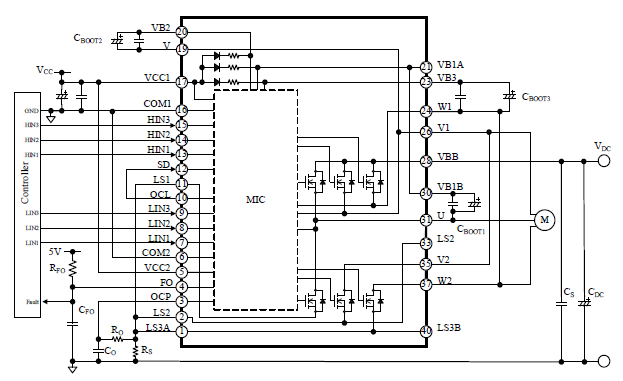 Block Diagram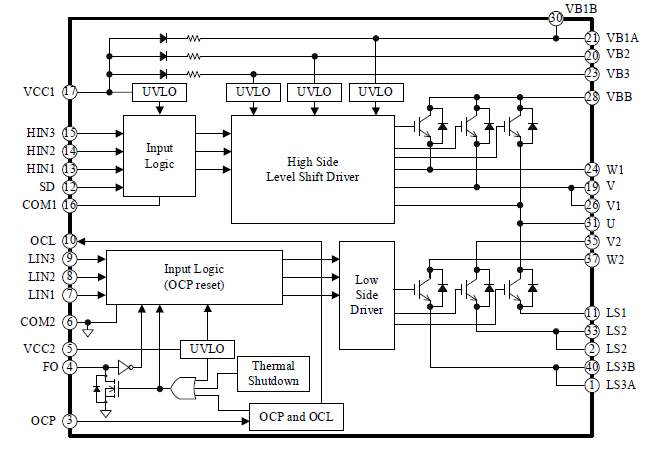 Pin Configuration Definitions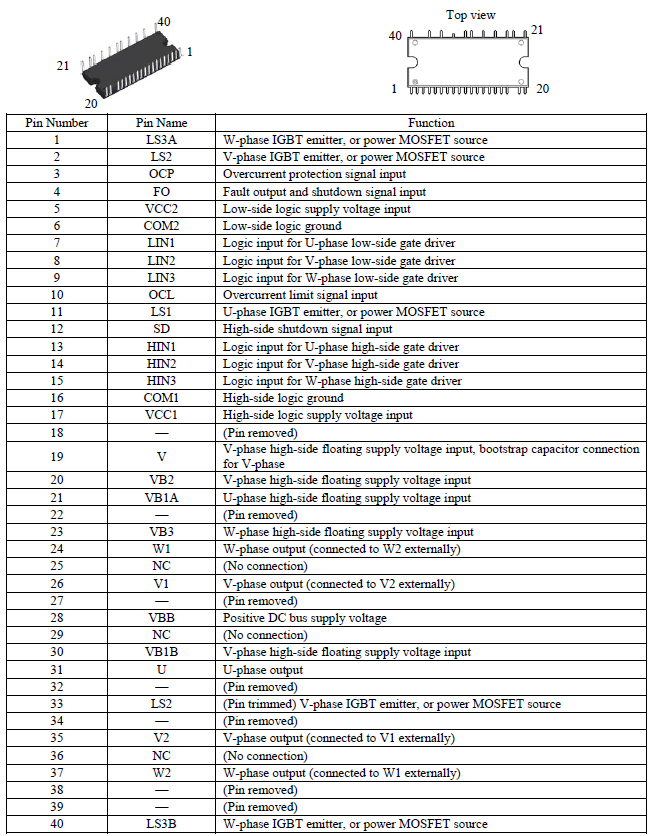 Physical Dimensions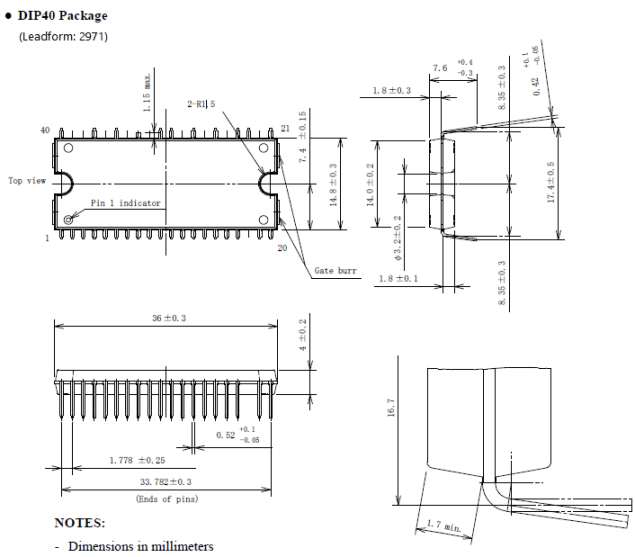 Questions or Comments?
Please feel free to contact us if you cannot find the desired product from the lineup.