SAM2 Series: Small-sized, High-voltage, 3-phase Motor Drivers
Introduction Video: SAM2 Series (3 min 23 s)
The SAM2 series, our latest 3-phase brushless motor drivers, supports voltages up to 1200 V and currents up to 50 A. All the devices required for controlling a 3-phase motor are integrated in its package.

Through the driver IC downsizing and high-density power chip mounting technologies, we succeeded in reducing the package size by ≥20% (compared to our old type ICs) with the same conventional devices included inside.

Moreover, the SAM2 series offers the industry-leading* temperature-sensing accuracy and low-noise characteristics. Your application will have a smaller PCB space, higher reliability, and more ease of designing high-voltage circuits.
So, this series is ideal for high-voltage, high-current applications such as an air-conditioning system intended for automotive and industrial use alike.


* Based on our survey as of May 1, 2022

Features
Package size ≥20% smaller than our old ICs
Industry's highest* temperature-sensing accuracy
Industry's lowest* noise characteristics
Built-in bootstrap diodes (+ current-limiting resistors)
Built-in thermistor
Isolation voltage: 2500 V (AC, 60 Hz, for 1 min)
Reliability
 Automotive: AEC-Q100 and AQG324 qualified
Pin layout
 Automotive: Safety-conscious pin configuration
 (the VCC, OCP, and GND pins not adjacent)
 Industrial: Easily replaceable with products from other manufacturers
Protection Functions
Undervoltage lockout for power supply
 VBx pin (UVLO_VBx): Auto-restart
 VCCL pin (UVLO_VCCL): Auto-restart
 Overcurrent protection (OCP): Auto-restart
SAM2 Package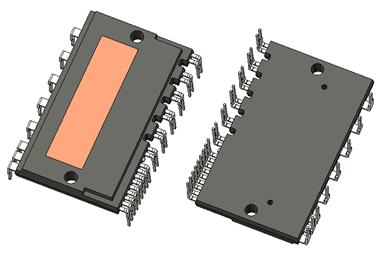 Applications
Automotive: 3-phase motor drives for high-voltage auxiliary systems used in hybrid electric vehicles (HEV) and electric vehicles (EV)
 (e.g., electric compressors, electric oil pumps)
Industrial: Commercial air conditioner compressors, general-purpose inverters, servomotors, etc.

If you need to request samples or have any questions, please feel free to contact us using the form below.
All-in-One and Compact

Schematic View: DBC Structure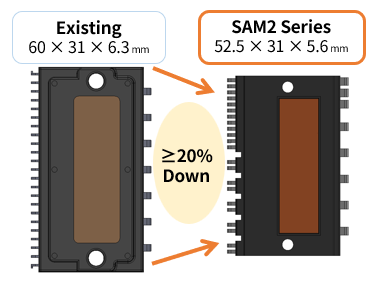 Package Size Reduced by ≥20%
The SAM2 series employs the DBC (Direct Copper Bonding) structure in which components like a chip can be placed directly on a substrate.
With this new structure, we achieved to put together not only a power chip but also a temperature-sensing thermistor compactly inside.
We also successfully reduced the package size by ≥20% compared to our old type ICs, while not changing the devices to be included inside but changing the MIC size in the driver part.

Although the package is downsized, this series still ensures reliability because of its sufficient insulation distances, including clearance and creepage.
For automotive use, we emphasized the 'design for safety' and placed the VCC, OCP, and GND pins not to be adjacent.
For industrial use, we considered the 'design for replaceability' and came up with the pin configuration compatible with products from other manufacturers.

In addition, the SAM2 series comes in two different lengths of external pins to meet diverse scenarios and needs that your application may face.


Industry's Highest* Temperature-sensing Accuracy
In the SAM2 series, the temperature-sensing thermistor is placed on the same DBC substrate as the power chip, not on the lead frame.
This helps your application have the industry's highest temperature-sensing accuracy and the followability to a rapid temperature change.
Its high sensitivity to an abnormal temperature in the driving elements also allows your application to have a wider range of actual operating temperatures and better motor system quality.


Industry's Lowest* Noise Characteristics
We developed and built our own freewheeling diodes, whose soft recovery characteristics are outstanding, into this series.
And this approach turned out to be very effective for suppressing noise at turn-on and for reducing emission noise as well or better than competitors.
You can also design your application with fewer filter circuits.


SAM2 Series Selection Guide
The automotive-use ICs are also applicable to industrial equipment.
Part Number / Data Sheet
VCES
IC
VCE(SAT)(Typ.)
Recommended Use
Package
SAM265M30AA1 
650 V
30 A
1.7 V
Automotive

SAM2 Package
LF2540, LF2541
SAM265M50AA1 
650 V
50 A
1.7 V
Automotive
SAM265M50BS3* 
650 V
50 A
1.7 V(TBD)
Industrial
SAM212M10BS1* 
1200 V
10 A
1.7 V
Industrial
* Under development (as of May 2022)

If you need to request samples or have any questions, please feel free to contact us using the form below.
Questions or Comments?
Please feel free to contact us if you cannot find the desired product from the lineup.