ACTIVE
SIM2602M
The SIM2600M series are high voltage 3-phase motor drivers driven by a sinusoidal control, which can support Hall element and Hall IC inputs, thus offering high-efficient yet low-noise motor control. Supplied in a highly heat-dissipating DIP package, where a controller, a gate driver, the output transistors of three phases, and bootstrap diodes are highly integrated, the SIM260xM series requires only a few external components for building a motor driver. This also allows a motor driver to be highly reliable in performance and design-friendly with its compactness. These products can optimally control the inverter systems of low- to medium-capacity motors that require universal input standards.
Design Support
Calculation Tools
Features
Pb-free (RoHS Compliant)
Low Noise, High Efficiency
(Sinusoidal Current Waveform)
Reduced Number of Parts Achieved by Built-in Bootstrap Diodes
Hall Element and Hall IC Inputs
Application-specific Optimal Settings with External Signals:
– Motor Speed
– Phase Adavance Angle
– Motor Direction
– User-settable Motor Lock Detection
 (Enabled or Disabled)
5 V Reference Voltage Output
 (Used for Driving Hall Elements etc.)
Fault Signal Output at Protection Activation (FO Pin)
Protections Include:
– VREG Pin Undervoltage Lockout (UVLO_REG)
– Undervoltage Lockout for Power Supplies
 VBx Pin (UVLO_VB)
 VCC Pin (UVLO_VCC)
– Overcurrent Limit (OCL)
– Overcurrent Protection (OCP)
– Thermal Shutdown (TSD)
– Motor Lock Protection (MLP)
– Reverse Rotation Detection
– Hall Signal Abnormality Detection
Application
Fan Motor and Pump Motor for Washer and Dryer
Fan Motor for Air Conditioner
Fan Motor for Air Purifier and Electric Fan
Specifications
Type
Power IC
Breakdown Voltage
600 V
Output Current
5.0 A
RDS(ON) max./
VCE(SAT) typ.
Output Element
IGBT
Input Threshold
― V
UVLO
YES
Overcurrent (OCP or OCL)
OCP
Temperature Detection
Thermal Shutdown
Fault Signal Output
YES
3 Shunt Support
NO
Bootstrap Diode
Built-in
Simultaneous On-state Protection
NO
Reg Output
YES
Remarks
VDSS
IO
Part Number
600V
2.5A
SIM2601MA
5.0A
SIM2602M
Typical Application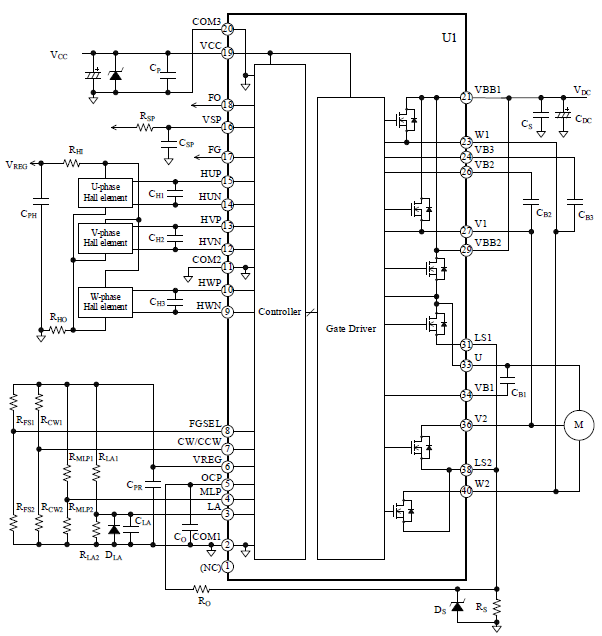 Block Diagram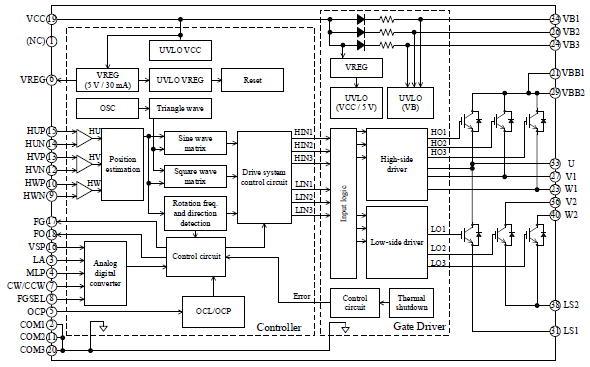 Pin Configuration Definitions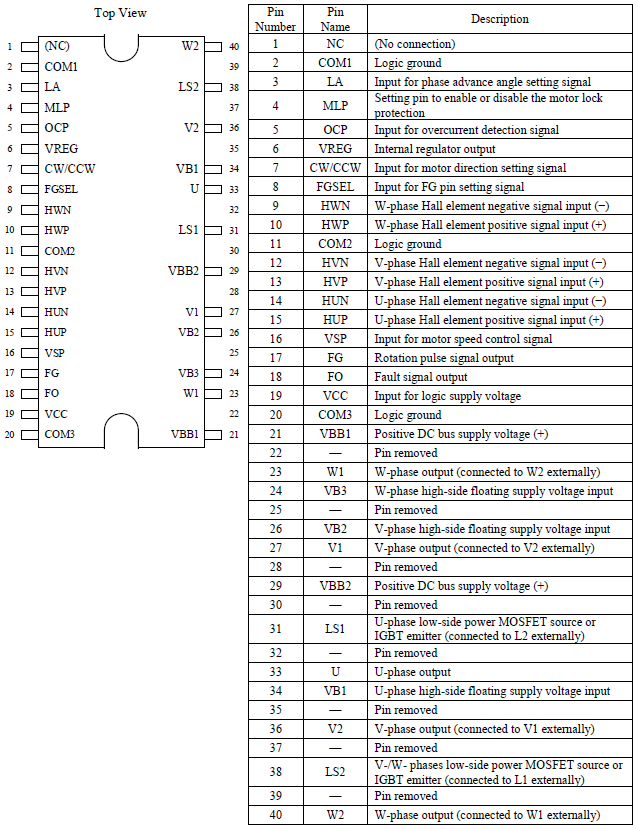 Physical Dimensions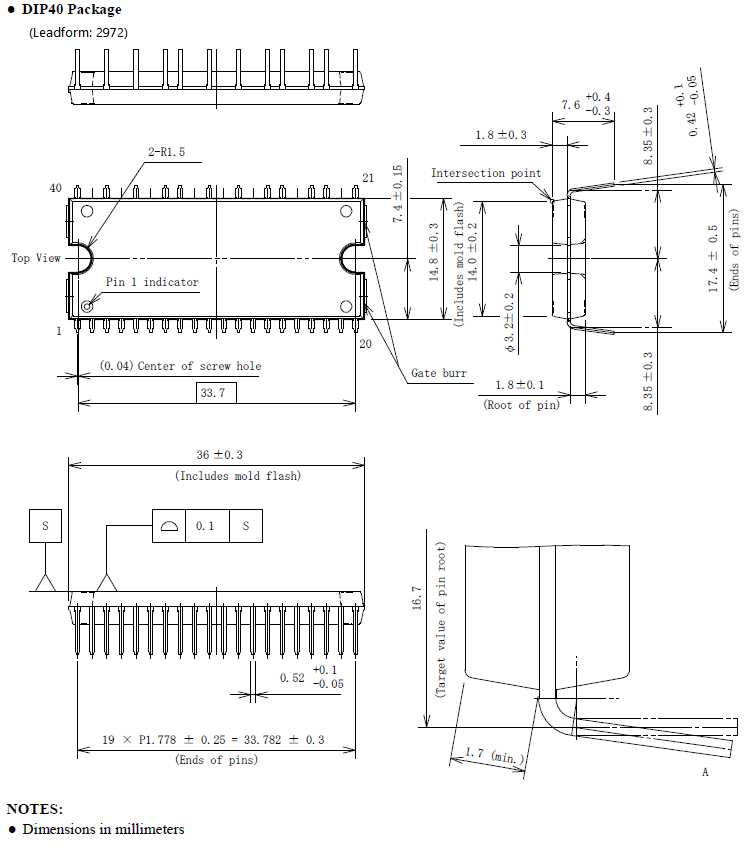 Questions or Comments?
Please feel free to contact us if you cannot find the desired product from the lineup.