ACTIVE
SMA6853MX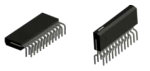 Package:ZIP24
The SMA6853MX provides a highly-integrated solution by incorporating key components into one package – 500V/2.5A MOSFET in a 3-phase full-bridge configuration, built-in protection functions such as UVLO (undervoltage lockout) and TD (thermal detection) circuits, pre-driver ICs with 7.5 V regulator output, and bootstrap diodes with limiting resistors.
The product is capable of detecting overcurrent through three shunt resistors. And the package is fully-molded SIP.
Design Support
Related Documents
■3D CAD Data
■Other
Features
・Built-in bootstrap diodes with 22Ω limiting resistor
・CMOS-compatible input (3.3 or 5 V)
・Built-in protection circuit for controlling power supply
voltage drop (UVLO)
・Built-in overheat detection circuit (TD)
・Regulator output: 7.5 V, 35 mA
・Overcurrent detection enabled via three shunt resistors
・Small SIP (SMA, 24 pins)
Application
Include motor control for:
・Air conditioner fan
・Air purifier fan
・Washer-dryer fan
Specifications
Type
Power IC
Breakdown Voltage
500.00 V
Output Current
2.5 A
RDS(ON) max./
VCE(SAT) typ.
V
Output Element
MOSFET
Input Threshold (3.3V or 5V)
3.3/5.0
UVLO
YES
Overcurrent (OCPorOCL)
None
Temperature Detection
Temperature Detection Function
Fault Signal Output
YES
3 Shunt Support
YES
Bootstrap Diode
Built-in
Simultaneous On-state Protection
NO
Reg Output
YES
Block Diagram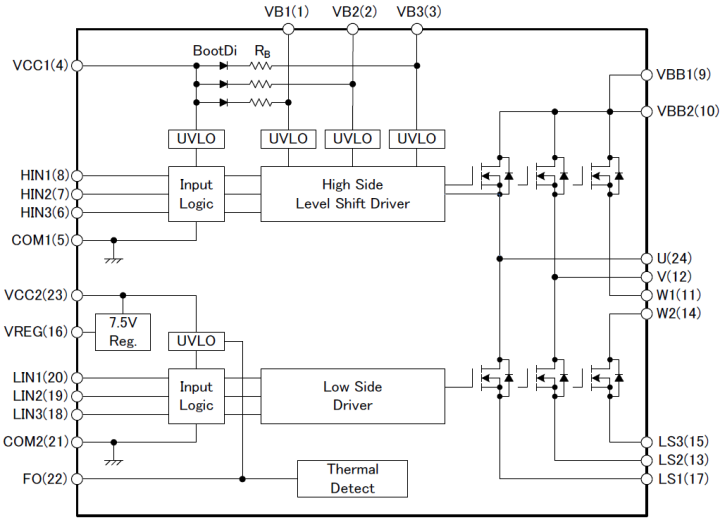 Pin Configuration Definitions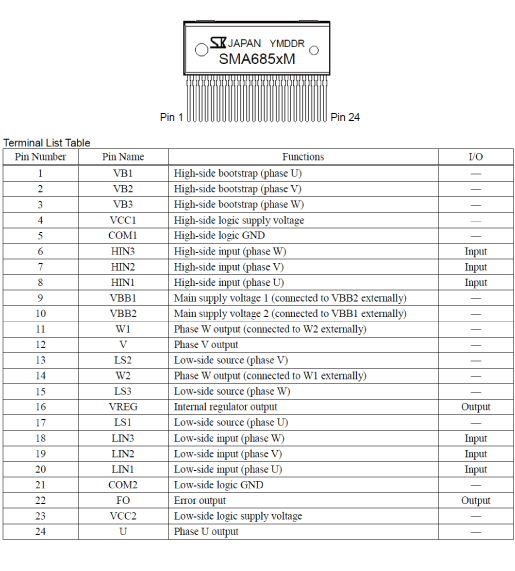 Questions or Comments?
Please feel free to contact us if you cannot find the desired product from the lineup.