ACTIVE
LC5546LD

Package:DIP8
The LC5540LD series is the power IC for the isolated type LED driver which has an incorporated power MOSFET,
designed for input capacitorless applications, and making it possible for systems to comply with the harmonics standard (IEC61000-3-2 class C) , even during light load condition.
The controller adapts the average current control method for realizing high power factors, and the quasi-resonant topology contributes to high efficiency and low EMI noise.
The rich set of protection features helps to realize low component counts, and high performance-to-cost power supply.
Design Support
Related Documents
■Application Note
■Other
Features
・Integrated on-time control circuit
・Integrated start-up circuit
・Integrated soft-start circuit
・Integrated bias assist circuit
・Integrated Leading Edge Blanking (LEB) circuit
・Integrated maximum on-time limit circuit
・Protection functions
 Overcurrent protection (OCP): Pulse by pulse
 Overvoltage protection (OVP): latch shutdown
 Overload protection (OLP): latch shutdown
 Thermal shutdown (TSD): latch shutdown
Application
・LED lighting equipment
 Ceiling lights
 Down lights, etc
Specifications
| | |
| --- | --- |
| Type | |
| Circuit Type | Flyback |
| Isolated / Non-Isolated | Isolated |
| MOSFET Breakdown Voltage | 650.00 |
| On-Resistance | 1.90 Ω |
| Output Current | 16W A |
| OCP | Pulse by pulse |
| OLP | Latch |
| OVP | Latch |
| LED Open / Short Protection | NO |
| Dimming Function | Analog |
Block Diagram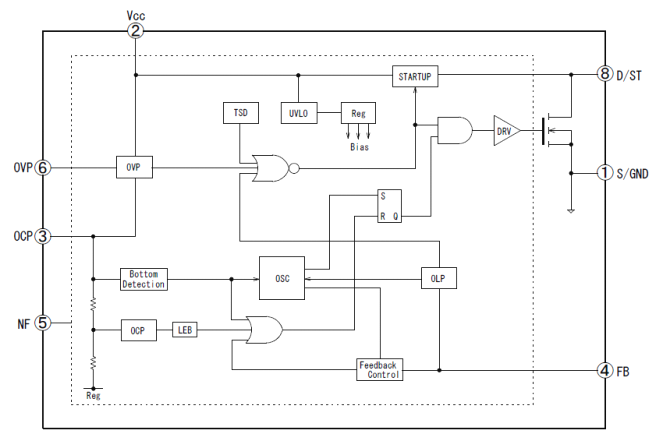 Pin Configuration Definitions
Questions or Comments?
Please feel free to contact us if you cannot find the desired product from the lineup.