ACTIVE
LC5720S

Package:HSOP8
The LC5720S product is the power IC for LED driver which incorporates a power MOSFET and a controller IC in a package. This product is a DC/DC converter which features are; wide input voltage range, 500kHz operating frequency, and Buck/ Boost/ Buck-Boost converter can be selected with external circuit configuration. LED string current can be set with the external resistor, and LED dimming can be controlled by the digital input signal. The rich set of protection features helps to realize low component counts, and high performance-to-cost power supply.
Features
l Operation Types: The following converter types are applicable by the external circuit configuration
  Buck Converter
  Boost Converter
  Buck-Boost Converter
l ILED=2.0A
l Fosc=500kHz
l VCS : 100mV±5%
l High Efficiency: η > Typ.90%
l PWM Dimming Frequency: 20kHz(Max)
l Protection Functions
  OCP: Pulse-by -pulse
  OVP
  TSD: Auto Restart

Application
・DC input LED Lighting
・Indoor/Outdoor LED Lighting
・LED Spotlight
・RGB LED Lighting

Specifications
| | |
| --- | --- |
| Type | Power IC |
| Circuit Type | Buck-Boost |
| Isolated / Non-Isolated | Non-Isolated |
| MOSFET Breakdown Voltage | 50 V |
| On-Resistance | 0.22 Ω |
| Output Power / Output current | 2.0A |
| OCP | Pulse by pulse |
| OLP | Latch / Auto Restart |
| OVP | Auto Restart |
| LED Open / Short Protection | YES |
| Dimming Function | Analog |
Block Diagram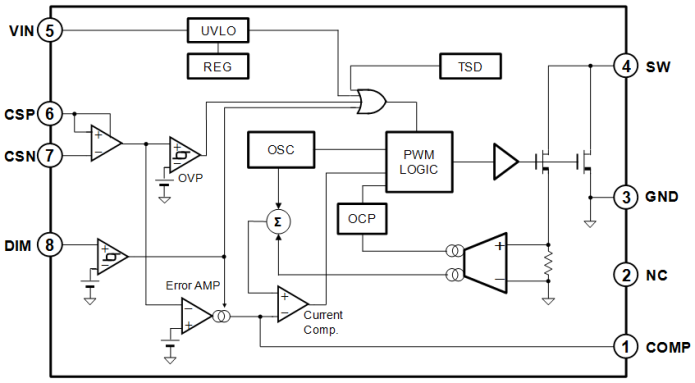 Pin Configuration Definitions
Questions or Comments?
Please feel free to contact us if you cannot find the desired product from the lineup.