ACTIVE
SFA0002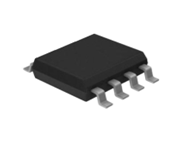 Package:SOP8
The SFA0002 is the switching power supply IC for flyback circuit and has high accuracy error amplifier. When the load of the power supply circuit becomes light, the operation of IC becomes the burst oscillation mode in order to improve the circuit efficiency. By employing the primary-side regulation, the IC realizes low component counts and design-friendliness, leading to downsizing and standardization of the power supply circuit.
Design Support
Related Documents
■3D CAD Data
■Other
Features
●AEC-Q100 Qualified
●Current Mode Type PWM Control
(Switching frequency can be adjusted by external
capacitor)
●Reducing External Component Count by Primary-side
Regulation
●Built-in High Accuracy Error Amplifier
(VFB = 2.5 V ± 2%, −40°C to 125°C)
●Operation Mode
Normal Operation: PWM Mode
Light Load Operation: Burst Oscillation
●Soft Start Function
(Startup time can be adjusted by external capacitor)
●Drive Output Stop Function
●Protections:
Overcurrent Protection (OCP): Pulse-by-Pulse
Overload Protection (OLP): Auto-restart
Thermal Shutdown Protection (TSD) with Hysteresis:
Auto-restart
Application
For following Isolation auxiliary power supply:
●Inverter
●On-board Charger (OBC)
●Battery Management System (BMS)
Specifications
| | |
| --- | --- |
| Block Diagram | sfa0002_fbd_en.png |
| Control Method | PWM |
| Type | |
| Output Current | 5 W |
| RDS(ON) (max.) | |
| VDSS (min.) | V |
| VCC (max.) | 36 V |
| Oscillating Frequency | 20 to 200 kHz |
| OCP | YES |
| OLP | Auto Restart |
| OVP | None |
| TSD | Auto Restart |
Remarks
Control IC (External MOS)
Block Diagram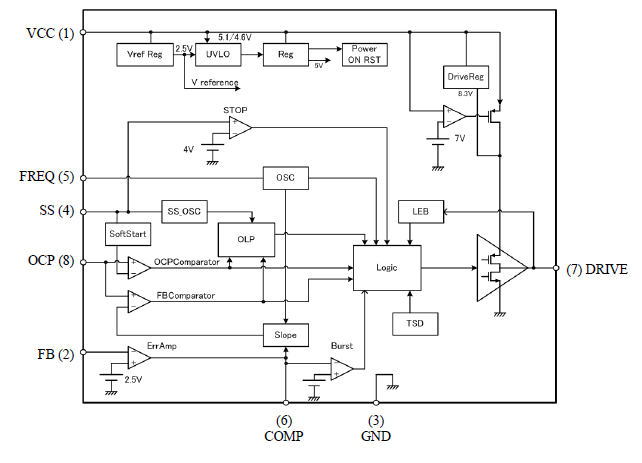 Pin Configuration Definitions

Questions or Comments?
Please feel free to contact us if you cannot find the desired product from the lineup.