ACTIVE
SSC4S701

Package:SOIC8
SSC4S701 is a single channel low-side gate driver, and drives a power transistor such as an IGBT and a power MOSFET. The IC has the undervoltage lockout for power supply and the overcurrent protection. When these protections are activated, the IC outputs the fault signal whose width is adjustable by an external capacitor. The IC is provided in the compact and low profile SOIC8 package.
Features
・Single Input and Output
・Fault Signal Output at Abnormal Condition
・Adjustable Fault Signal Output Time
・ Protections
 Undervoltage Lockout for Power Supply
 Overcurrent Protection
Application
・Inverter Air Conditioners
・Refrigerators
・Industrial Equipment
・Server, etc.
Specifications
| | |
| --- | --- |
| Maximum Supply Voltage | 24 V |
| Output Source Current (Peak) | -0.8 A |
| Output Sink Current (Peak) | 1.75 A |
| UVLO | YES |
| OCP | YES |
Block Diagram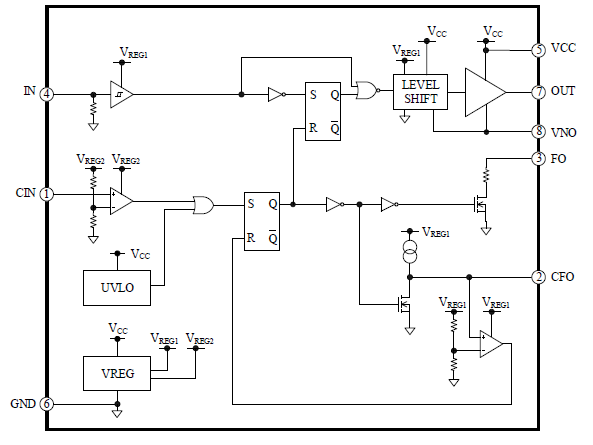 Pin Configuration Definitions
Questions or Comments?
Please feel free to contact us if you cannot find the desired product from the lineup.