ACTIVE
SSC4S790

Package:SOIC8
SSC4S790 is a single channel high-side gate driver. The IC incorporates a floating drive circuit for a high-side power MOSFET, which can be used for a high-side gate driver such as a half-bridge converter or bridgeless PFC.
The IC is provided in the compact and low profile SOIC8 package.
Features
Single Input and Output
Breakdown Voltage of Floating Driver: 600 V
3.3 V Logic Signal Compatible
CMOS Schmitt-trigger Input with Pull-down
Output in Phase with Input
Protections
High-side Driver Undervoltage Lockout (UVLO): Auto-restart
VCC Pin Overvoltage Protection (OVP): Latched shutdown
Thermal Shutdown (TSD): Latched shutdown
Application
White Goods
Office Automation Equipment
Audio Visual Equipment
Industrial Equipment
Other Switched Mode Power Supply (SMPS)
Specifications
| | |
| --- | --- |
| Maximum Supply Voltage | 18 V |
| Output Source Current (Peak) | -0.3 A |
| Output Sink Current (Peak) | 0.55 A |
| UVLO | YES |
| OCP | NO |
Typical Application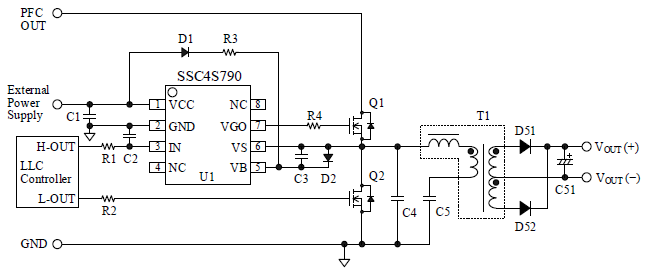 Block Diagram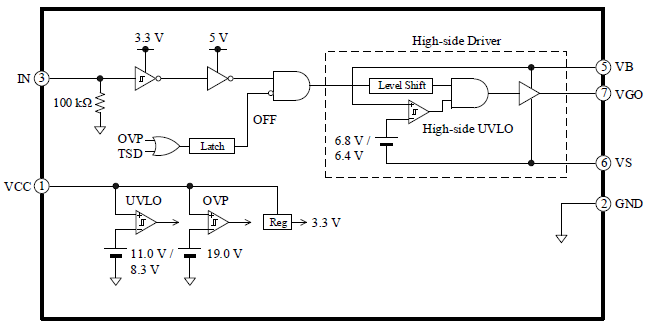 Pin Configuration Definitions

Questions or Comments?
Please feel free to contact us if you cannot find the desired product from the lineup.