OBSOLETE
SSC2101S

Package:SOP8

3D CAD Data
SSC2101S series is a power factor control IC with interleaved Discontinuous Conduction Mode (DCM) operation.
2-phase interleaved operation realizes low noise, and low ripple current. Also, high performance-to-cost PFC system can be realized with low component count.
Features
・Continuous conduction mode (CCM) system
・Average current control system
・PWM and frequency modulation functions
・Maximum duty cycle 94% (typ)
・Error amplifier reference voltage 3.5 V (typ)
・Built-in high speed load response (HSR) function
・Brown-in/brown-out protection function
・Protection functions:
Output overvoltage protection (OVP): auto restart
Overcurrent protection (OCP): two types, both with auto restart
Open loop detection (OLD) on output: auto restart

Application
Power factor correction of middle power electronic devices
 ・AC/DC power supply
 ・Digital appliances (large size LCDTVs, PDPTVs)
 ・Office automation (OA) equipment: Computers, servers, monitors, etc
 ・Telecommunication equipment

Specifications
| | |
| --- | --- |
| Control Method | |
| Max. ON-time / Max. ON Duty | 15us |
| OCP | Pulse by pulse |
| OVP | Auto Restart |
| TSD | None |
| Package Weight (Typ.) | g |
Block Diagram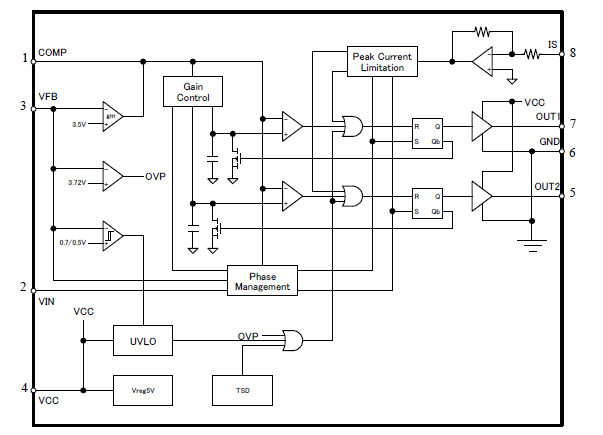 Questions or Comments?
Please feel free to contact us if you cannot find the desired product from the lineup.