ACTIVE
SI-6633M
Package:QFN36
SI-6633M is a 3-phase brushless motor driver IC, with rated current of 2A(DC)/4A(peak)
Output DMOSFET, pre-drive, PWM current control, and protection functions are integrated into a single package. The device supports motor power voltage up to 30V.
Design Support
Related Documents
■Application Note
■Other
Features
ØMotor supply voltage range VBB=10~30V
ØOutput DMOSFETs are integrated. Output current IOUT=2A(DC)/4A(peak)
ØHall Input
ØCurrent control function
lFixed frequency PWM (Internal PWM) with peak current control
lPWM control by speed control signal with analog voltage (External PWM)
lPWM control by logic input (Logic PWM)
lOver current protection
lOver voltage protection
lThermal shutdown
lUnder voltage lock out
lMotor lock detection
*Alarm output pin (FLAG) is active when any protection is activated.
ØMotor speed output by hall input transition (FG)
ØSynchronous rectification with low power dissipation
ØSelect for synchronous rectification (active/passive).
ØStand-by mode
*Although the device may be protected from damaged with protection circuit in the device from design point of view, it can't be guaranteed the device being damaged by the protections in the device. In the design of set, please take care to avoid abnormal condition with all the countermeasures you can take.
Application
Printers, industrial equipment
Specifications
| | |
| --- | --- |
| Type | |
| Maximum Supply Voltage | 38.00 V |
| Output Current | 4.0 A |
| On-Resistance | 4.0 Ω |
| Output Method | 120° |
| Input Method | |
| OVP | YES |
| OCP | YES |
| UVLO | YES |
| TSD | YES |
| STP (Simultaneous ON Protection Feature) | YES |
| Lock Detection | YES |
Block Diagram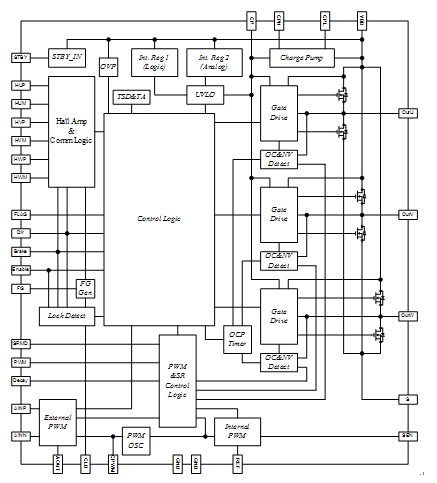 Pin Configuration Definitions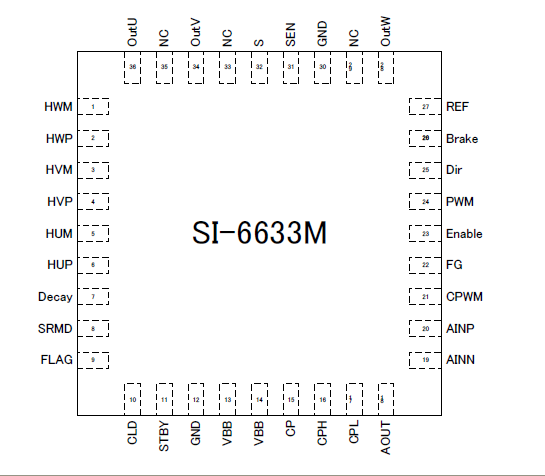 Questions or Comments?
Please feel free to contact us if you cannot find the desired product from the lineup.