ACTIVE
SSC1S312A

Package:SOIC8
SSC1S312A is the controller IC of a quasi-resonant mode for a switching power supplies. The IC incorporates a startup circuit and a standby function to reduce a power consumption and standby power. In normal operation, the quasi-resonant mode operation achieves high efficiency and low noise. In addition, in medium to low load conditions, the operation mode is automatically changes the quasi-resonant mode to the bottom-skip mode to improve efficiency. The IC is provided in the SOIC8 package. The power supply that is a low component counts and a high performance-to-cost can be achieved by the rich set of protection features.
Features
・Multi-Mode Control
・Automatic Standby Function
・Input Power at No Load:
 <30mW at 100VAC
 <50mW at 230VAC
・Bottom-Skip Function
・Step-on Burst Oscillation Function
・Bias Assist Function
・Soft-Start Function
・Adjustable Startup Voltage
・Maximum On-time Limitation Function
・VCC Operational Range Expanded
・Leading Edge Blanking (LEB) Function
・Protection Functions
 Overcurrent Protection (OCP): Pulse-by-pulse
 Overvoltage Protection (OVP): Latched Shutdown
 Overload Protection (OLP): Latched Shutdown
 Thermal Shutdown (TSD): Latched Shutdown
Application
・Digital Appliance
・Office Automation (OA) Equipment
・White Goods
・Industrial Apparatus
・Communication Facilities
Specifications
| | |
| --- | --- |
| Control Method | Quasi-Resonant |
| Type | Controller |
| Output Current | W |
| RDS(ON) (max.) | Ω |
| VDSS (min.) | V |
| VCC (max.) | 35 V |
| Oscillating Frequency(typ.) | ― kHz |
| OCP | YES |
| OLP | Latch |
| OVP | Latch |
| Brown-in / out | NO |
| TSD | Latch |
| Power Consumption at No Load | |
Typical Application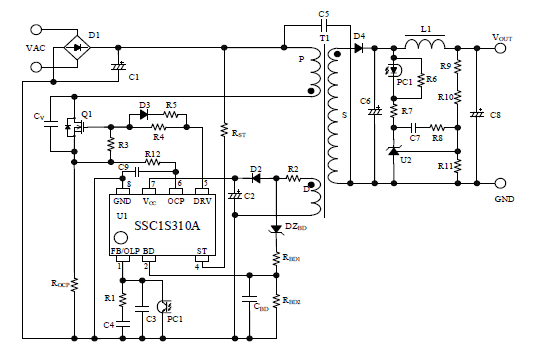 Block Diagram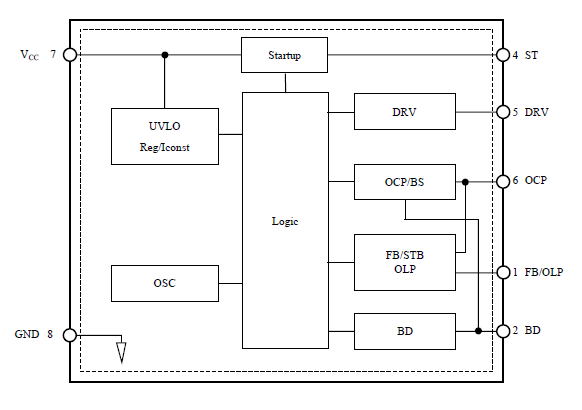 Pin Configuration Definitions

Selection Guide
SSC1S310A Series
Part Number
Protection Operation
(OVP, OLP, TSD)
SSC1S311A
Auto-restart
SSC1S312A
Latched Shutdown
Questions or Comments?
Please feel free to contact us if you cannot find the desired product from the lineup.