OBSOLETE
STR-W6251D
The STR-W6200D series are power ICs for switching power supplies, incorporating a power MOSFET and a current mode PWM controller IC in one package.
Including a startup circuit and a standby function in the controller, the product achieves low power consumption, low standby power, and high cost-effectiveness in power supply systems, while reducing external components.

Design Support
Related Documents
■Application Note
■Other
Features
・Current mode PWM control
・PWM and frequency modulation functions:
・Built-in slope compensation function
・Auto standby function:
・Input power: PIN<40mW at low load
 Normal operation: PWM mode
 Light load operation: Standby mode (burst oscillation)
・Built-in Audible Noise Suppression function during Standby mode
・Built-in startup circuit
・Bias-Assist function
・Built-in Leading Edge Blanking function
・Protection functions:
 Overcurrent Protection function (OCP); pulse-by-pulse, built-in compensation circuit
 Overload protection function (OLP): auto restart, built-in timer
 External Latch Protection function (ELP): latched shutdown by external signal
 Overvoltage protection (OVP): latch shutdown
 Thermal shutdown (TSD): latch shutdown
Application
・White goods
・Digital appliances
・ Office automation (OA) equipment
・ Industrial equipment
・Telecommunication equipment
・ Other S.M.P.S
Specifications
| | |
| --- | --- |
| Control Method | PWM |
| Type | Power IC |
| Output Current | 30 W |
| RDS(ON) (max.) | 3.950 Ω |
| VDSS (min.) | 650 V |
| VCC (max.) | 32 V |
| Oscillating Frequency(typ.) | 67 kHz |
| OCP | YES |
| OLP | Auto Restart |
| OVP | Latch |
| Brown-in / out | NO |
| TSD | Latch |
| Power Consumption at No Load | <40mW |
Typical Application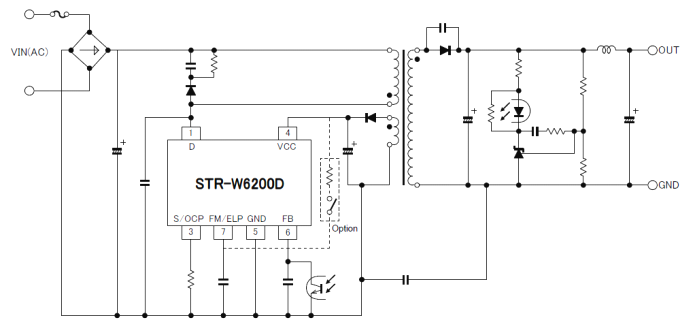 Block Diagram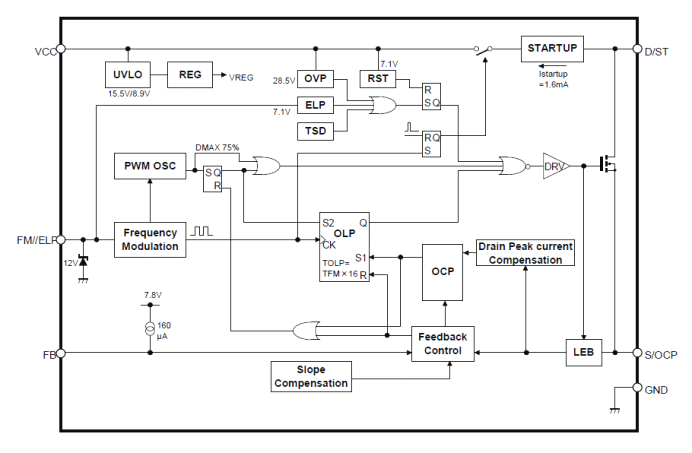 Questions or Comments?
Please feel free to contact us if you cannot find the desired product from the lineup.