ACTIVE
STR3A453D

Package:DIP8
The STR3A453D is a power IC for switching power supplies, incorporating a power MOSFET and a current-mode PWM controller IC.
The product achieves low power consumption and low standby power by including a startup circuit and a standby function that automatically switch operation modes – PWM mode in normal operation and burst-oscillation mode under light-load conditions. Its enhanced protection functions also enable higher cost-effective power supply systems with few external components.
Design Support
Related Documents
■Design Examples
■3D CAD Data
■Other
Features
・Low Thermal Resistance Package
・Improving circuit efficiency
 (Since the step drive control can keep VRM of secondary
 rectification diodes low, the circuit efficiency can be
 improved by low VF.)
・Current Mode Type PWM Control
・Soft Start Function
・Auto Standby Function
 No Load Power Consumption < 15mW
・Operation Mode
 Normal Operation: PWM Mode
 Light Load Operation: Green-Mode
 Standby: Burst Oscillation Mode
・Random Switching Function
・Slope Compensation Function
・Leading Edge Blanking Function
・Bias Assist Function
・Protections
 Overcurrent Protection (OCP): Pulse-by-Pulse
 Overload Protection (OLP): Auto-restart
 Overvoltage Protection (OVP): Auto-restart
 Thermal Shutdown (TSD): Auto-restart with hysteresis

Application
・AC/DC adapter
・White goods
・Other SMPS
Specifications
| | |
| --- | --- |
| Control Method | PWM |
| Type | Power IC |
| Output Current | 35 W |
| RDS(ON) (max.) | 1.900 Ω |
| VDSS (min.) | 650 V |
| VCC (max.) | 32 V |
| Oscillating Frequency(typ.) | 65 kHz |
| OCP | YES |
| OLP | Auto Restart |
| OVP | Auto Restart |
| Brown-in / out | NO |
| TSD | Latch |
| Power Consumption at No Load | <15mW |
Typical Application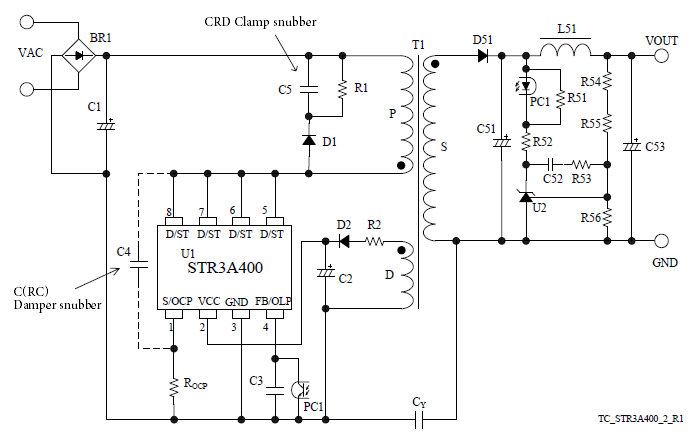 Block Diagram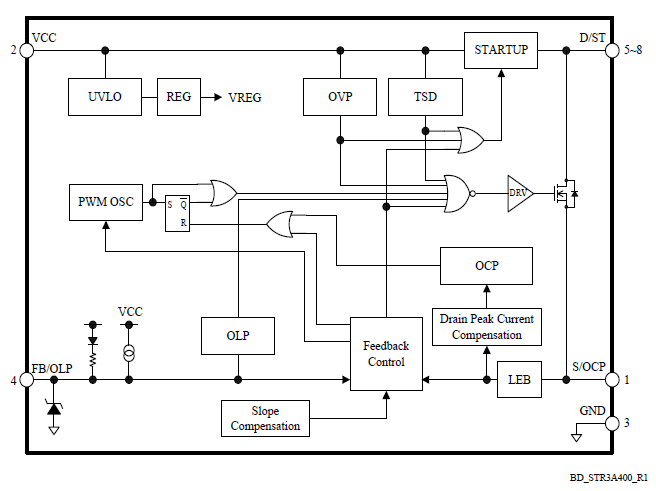 Pin Configuration Definitions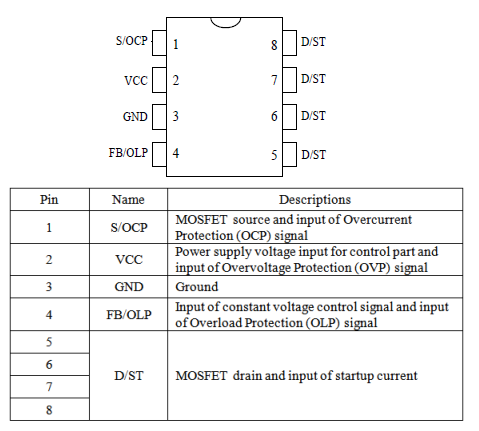 Physical Dimensions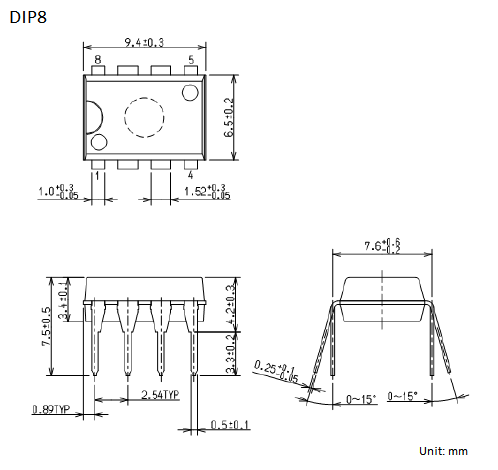 Questions or Comments?
Please feel free to contact us if you cannot find the desired product from the lineup.