ACTIVE
STR5A464D

Package:DIP8
The STR5A460 Series is power ICs for switching power supplies, incorporating a MOSFET and a current mode PWM controller IC for non-isolated Buck converter and Inverting converter topologies. The operation mode is automatically changed, in response to load, to the fixed switching frequency, to the switching frequency control, and to the burst oscillation mode. Thus the power efficiency is improved. The product achieves high cost-performance power supply systems with few external components.
Features
・Buck converter
・Inverting converter
・Current mode type PWM control
・Automatically changed operation mode in response to load conditions
Fixed switching frequency mode, 60 kHz (typ.)
Green mode, 23 kHz (typ.) to 60 kHz (typ.)
Burst oscillation mode
・No need for current detection resistor, building in a MOSFET used as current sense resistor
・Built-in Startup Function
・Built-in Error Amplifier
・Random Switching Function
・Leading Edge Blanking Function
・Soft Start Function
・Protections
Overload Protection (OLP): Auto-restart
Overvoltage Protection (OVP): Auto-restart
Thermal Shutdown with hysteresis (TSD): Auto-restart

Application
・White goods
・Auxiliary power supply (lighting equipment with microcomputer, etc.)
・Power supply for motor control (actuator, etc.)
・Telecommunication equipment (convertible from 48VDC to 15VDC)
・Other Switching mode power supply, SMPS
Specifications
| | |
| --- | --- |
| Control Method | PWM |
| Type | Power IC |
| Output Current | IDLIM=0.41A W |
| RDS(ON) (max.) | 13.6 Ω |
| VDSS (min.) | 700.00 V |
| VCC (max.) | 32.00 V |
| Oscillating Frequency(typ.) | 60 |
| OCP | YES |
| OLP | Auto Restart |
| OVP | Auto Restart |
| Brown-in / out | NO |
| TSD | Latch |
| Power Consumption at No Load | |
Typical Application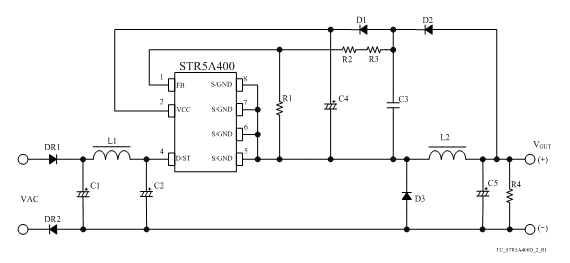 Block Diagram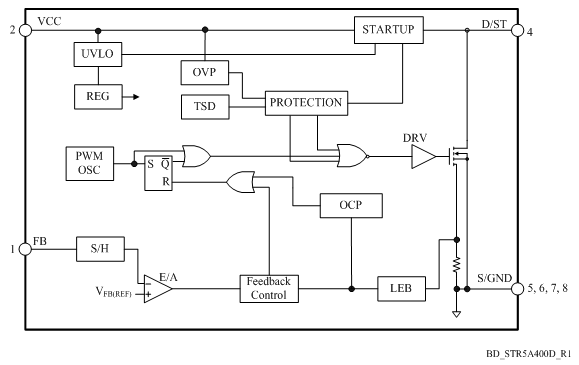 Pin Configuration Definitions

Questions or Comments?
Please feel free to contact us if you cannot find the desired product from the lineup.