1Quality and Reliability of Semiconductor Devices
1.1 Quality Policy
Basic Philosophy
We will pursue quality assurance from the viewpoint of customers through innovation of technological development and production activities.
Code of Conduct
We will act as follows, considering the status of our implementation of product development and manufacturing as well as management work as a core company of the Sanken Group according to the basic philosophy:
We will act in cooperation with related divisions under a consistent quality management system, with the objective of "improving customer satisfaction (No. 1 in the industry)."
We will continuously improve the quality management system according to the results and operation status of management reviews.
We will comply with laws and other regulations.
We will plan and implement quality improvement activities including the development of human resources, considering the following, and monitor the progress:
Provision of high-quality products that can contribute to the benefit of society
Eradication of customer complaints
Built-in quality based on upstream management
Management system that can match market speed
1.2 Quality Assurance System
Relevant divisions at SANKEN ELECTRIC act under a quality assurance system from the product planning stage through design, pre-production, and mass production to shipment and placement on the market, in order to provide the products on a timely basis that have specifications, quality and reliability meeting customers' expectations and demands.
The following shows the quality system assurance system chart: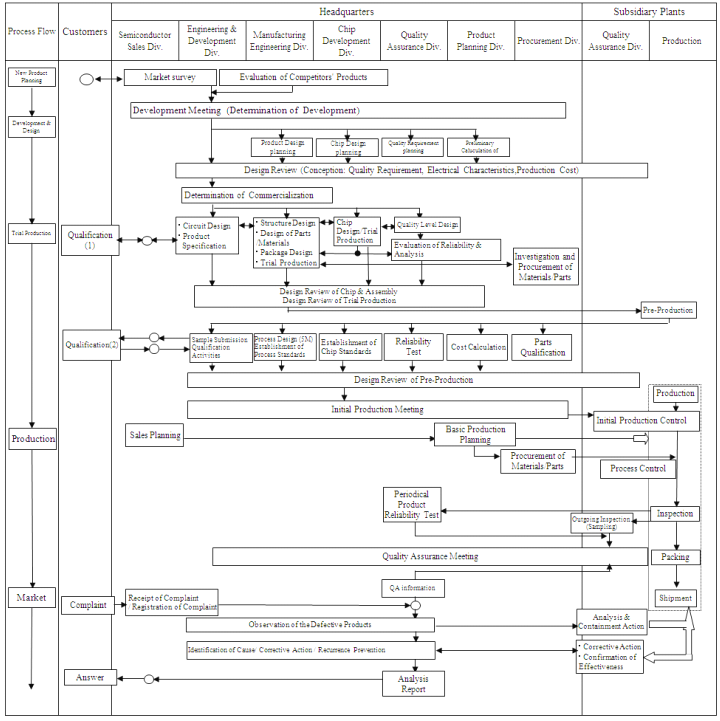 Questions or Comments?
Please feel free to contact us if you cannot find the desired product from the lineup.